CES Samsung has waited until the end of this year's CES show in Las Vegas to secure plenty of attention for its latest mobile phone, the Croix UI-based F490.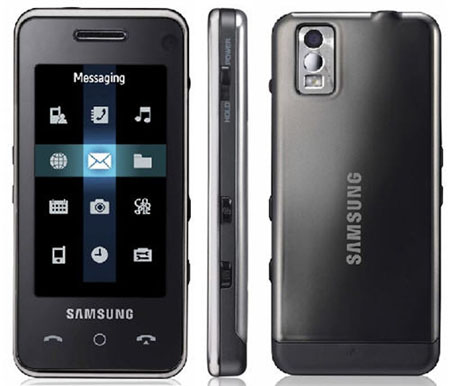 Samsung F490: touch-operated Croix UI
Looking deceptively similar to the existing Samsung F700, the F490 marries quad-band GSM connectivity with HSDPA for downloads up to 3.6Mb/s. On the multimedia side, it blends together a 3.2in, 16:9 widescreen LCD touchscreen with a five-megapixel camera.
As on the iPhone, web pages can be viewed either horizontally or vertically. However, the F490 has an embedded Google search engine. Users control the handset's features through taps and drags.
The F490 captures video in MPEG 4 at 30 frames per second, but can play a variety of formats, including WMV. There's only 130MB of storage on board, but Samsung's built in a Micro SD card slot to give users plenty of expansion opportunity.
Data can be transferred wirelessly over Bluetooth 2.0, with A2DP included to help users wirelessly transmit music. Or there's a USB 2.0 port for a trusty cable connection.
Samsung's F490 is expected to be released in Europe next month for around €530 (£400/$800), but a UK specific price hasn't been announced yet.
Similar topics