Review Nokia has boosted the spec of one of its most popular smartphones, bolting in 8GB of Flash memory and refining key features. So is the latest version of the N95 a refreshing update for Nokia's flagship multimedia, GPS-toting mobile?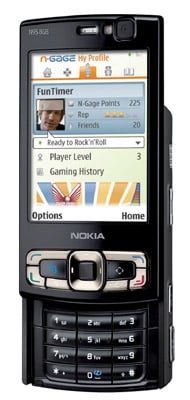 Nokia's N95 8GB: stacks more memory
Unlike most upgrades, where cosmetic tweaks give a long-running model a new lease of life, there are real and significant differences with this Symbian S600-based smartphone.
The extra 4GB of storage is the obvious headline-grabber here, allowing the N95 8GB to match the capacity of the Apple iPhone and the Sony Ericsson W960i.
But the N95 8GB is a formidably-equipped smartphone in many other ways too. It sports a high-end five-megapixel camera with Carl Zeiss-sourced optics, a network-assisted GPS receiver, a multi-format media player, and good connectivity with HSDPA 3G and Wi-Fi.
There are more instantly notable changes from the original N95 - reviewed here. Nokia has given the N95 8GB a black makeover, making it a sharper, tastier proposition than the silver version. Screen real estate has increased to a noticeably larger 2.8in, 240 x 320 (QVGA) display, up from the original N95's 2.6in panel. However, the phone's chassis itself - though still chunky and a hefty 128g - hasn't got any bigger, so the control key array below the screen has been squashed to accommodate the bigger screen.
Similar topics