This article is more than 1 year old
It was the MacBook Air sub-notebook
The world's thinnest notebook, Apple claims
Macworld Expo For once the rumour mill was right. "There's something in the air," said Apple CEO Steve Jobs. And then he hit us with the MacBook Air. It's aluminium, has black keys, is super, super thin, and Steve held it easily with his fingertips.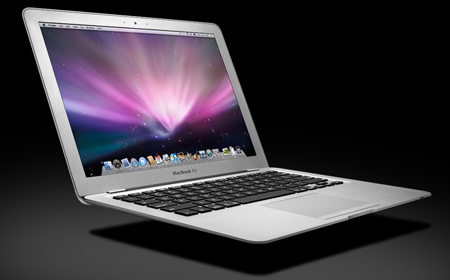 Thinnovation
"It's the world's thinnest notebook," he went on. It has a 13.3in widescreen, LED backlit display that's instant-on. It also has a built-in iSight camera, a full-sized, back-lit keyboard, and a trackpad with multi-touch gesture support.

Skinny
The MacBook Air goes from 1.9cm down to 0.4cm at the thin end. It has a length of 32cm, a width of 22.7cm and weighs in at 1.36kg. It's so thin, it even fits inside a manilla envelope - as Jobs demonstrated.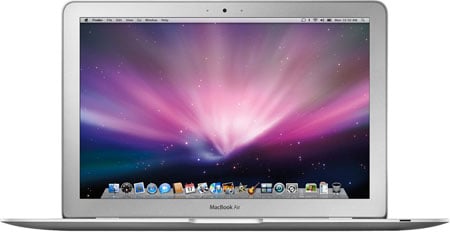 Widescreen 13.3in LED-backlit display
The Macbook Air packs a 1.6GHz Intel Core 2 Duo processor with 4MB on-chip shared L2 cache running at full processor speed, though a 1.8GHz upgrade will be available too. All Airs come with 2GB of DDR 2 memory as standard. The 1.6GHz model comes with a 4200rpm 80GB hard disk drive, but the faster Air has a 64GB solid-state drive.
The port array runs to a MagSafe link on the right side, and a USB 2.0 port, mini-DVI connector and a headphone socket on the left, all three under a flap. Want an optical drive? That's an extra $99 for an external unit, though the Air can make use of drives fitted into other Macs. The Air ships with adaptor cables with full DVI and VGA ports on the end.
With 802.11n Wi-Fi on for browsing the web, you get five hours of battery life, Jobs claimed. Bluetooth 2.1+EDR is part of the package too. However, the battery is sealed and is not user replaceable.
The a new MBA battery will cost $129. And the installation is free, but you'll still have to hand over your machine to Apple until they can get the new battery installed.
And how much will this lovely laptop set you back? From £1199 in the UK and $1799 in the US, where it's due to ship in two weeks' time. The forecast ship time for the UK is two to three weeks. The 1.8GHz, 64GB SSD model will cost £2028/$3098.
Hmmm. That $3098 equates to £1571 at today's exchange rate. Even allowing for UK sales tax, that's a rum deal for Brits.
Macworld Expo Stories
• Apple NAS box ties in to Leopard's Time Machine
• It was the MacBook Air sub-notebook
• Apple looks to movie rentals to revive Apple TV box
• Apple to charge $20 for iPod Touch update