NASA's Messenger yesterday successfully completed its first fly-by of Mercury, passing roughly 124 miles (200km) above the surface of the planet.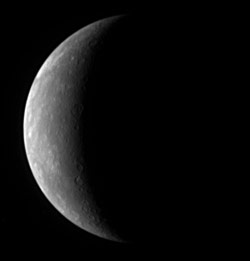 En route to this initial encounter, Messenger's Narrow Angle Camera took the opportunity to snap the approach, as seen in this image taken on 13 January when the spacecraft was around 470,000 miles (760,000km) from its target.
Michael Paul, a mission engineer, told Reuters: "So far, things look pretty good. The spacecraft was on the course we wanted it to be on."
Mission systems engineer Eric Finnegan, of the Johns Hopkins University Applied Physics Laboratory, said: "The engineers and operators at the Deep Space Network in Goldstone, Calif., in conjunction with engineers at the Johns Hopkins University... pulled off a tremendous feat, acquiring and locking onto the downlink signal from the spacecraft within seconds, providing the necessary Doppler measurements for the Radio Science team.
"The spacecraft is continuing to collect imagery and other scientific measurements from the planet as we now depart Mercury from the illuminated side, documenting for the first time the previously unseen surface of the planet."
Messenger will today begin beaming its fly-by data back to Earth while heading for a second and third rendevous with Mercury - in October 2008 and September 2009, respectively - before orbital insertion in 2011. Its instrument payload includes the Mercury Dual Imaging System (MDIS), which will eventually capture more than 1,200 images of the planet's surface, the Mercury Atmospheric and Surface Composition Spectrometer (MASCS), to "observe Mercury's surface as well as its tenuous atmosphere", and the Messenger Magnetometer (MAG), designed to probe the body's magnetic field.
It's also packing the splendidly-titled Energetic Particle and Plasma Spectrometer (EPPS), which will "characterise Mercury's space environment and interactions with the solar wind", as well as the Mercury Laser Altimeter (MLA), aimed at mapping the surface topography along a narrow plane.
And if that isn't enough kit for the first visit to Mercury since Mariner 10 dropped by in 1975, Messenger will also deploy a Gamma-Ray and Neutron Spectrometer (GRNS) and X-Ray Spectrometer (XRS) which between them will "make the first measurements of Mercury's surface elemental composition".
All being well, Messenger's initial data should be made available later this month. ®