Review The EVA8000 was a high-end product when it was announced, bundling HDMI with 1080P HD playback. But the video encoding world moves quickly. It may have been suitable when HD standards were emerging, but a few months later the situation looks decidedly different.
H.264 has emerged as the HD codec of choice, although you'll also find material encoded with Microsoft's VC1 codec out there as well. Both are used on HD DVD and Blu-ray Disc. MPEG 2 is still hanging in there, but for HD material it's really not up to the job.

Netgear EVA8000: no MKV support - yet
Although the EVA8000 supports a vast array of codecs, including H.264, VC1, WMV, Xvid, Divx and WMV, it's in containers where the shipping model falls short. A container format is simply a file structure for bundling up encoded audio and video. AVI is probably the best known, but others include WMV, MPEG 4 and QuickTime. The container format doesn't dictate which codec is used, so you can have an AVI that contains video encoded in Divx and another AVI with video compressed in MPEG 2, for example.
As HD content has become more widely available, Matroska - aka MKV - has emerged as one of the most in-demand container formats. Matroska has been around since 2002 and is open source, so it can be used by anyone and isn't tied to any restrictive licensing agreements.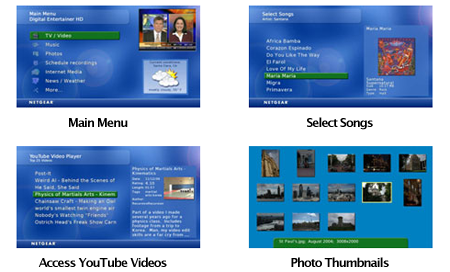 Out of the box, the EVA8000 doesn't support MKV files - you can't even see them when browsing your network because of the way the machine indexes files. However, although the last official firmware for the device, version 1.2.20, was released on 31 July, Netgear has in the meantime been actively developing a firmware update that does support MKV, along with numerous other features and fixes.
We didn't want to review the EVA8000 until support for this important format was present. So now it is, here we go...