Crazy Frog millionaires invest in Facebook
Taking on the world, one annoying product at a time
The three brothers who coined millions from the Crazy Frog phenomenon have followed Microsoft in taking a stake in Facebook.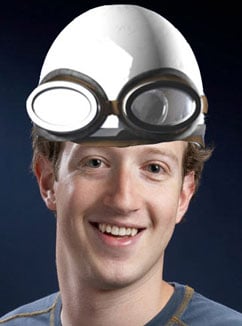 "Crazy" Mark Zuckerberg.
The German Samwer boys sold their ringtones firm Jamba to Verisign in 2004. It went for $273m on the back of irritating buuh-bud-uh-bu-buuh noises, but Verisign quickly suffered buyers' regret as even idiots got bored and Jamba mined a hole in its earnings.
The brothers have since become start-up investors with their own venture capital fund and were early backers of StudiVZ ("Student Directory"), a German Facebook clone.
The undisclosed personal stake they've taken in Facebook is aimed at helping it crack the German market, where it has yet to make a significant impact against local social networking rivals. The Wall Street Journal reckons they coughed between $10m and $15m.
If the Samwers were stung as badly as Microsoft, which got 1.6 per cent for $240m, they will have bagged a mere 0.1 per cent of Facebook. It seems pretty unlikely that anyone else would be that gullible though. ®