NASA's Messenger has beamed back the first picture of Mercury's hitherto unseen side, snapped from a distance of about 17,000 miles after its first fly-by of the planet yesterday.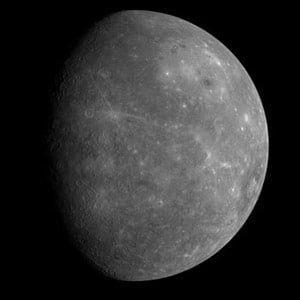 Messenger photo of Mercury's hitherto unseen side.
Image: NASA
NASA explains: "The image shows features as small as six miles in size. Similar to previously mapped portions of Mercury, this hemisphere appears heavily cratered. It also reveals some unique and distinctive features. On the upper right is the giant Caloris basin, including its western portions never before seen by spacecraft. Formed by the impact of a large asteroid or comet, Caloris is one of the largest, and perhaps one of the youngest basins in the solar system."
Messenger will make two further fly-bys of Mercury before orbital insertion in 2011, after which it will deploy its impressive payload of instruments to probe the body's mysteries.
NASA has a bigger image of Mercury's newly-revealed hemisphere here. ®