This article is more than 1 year old
FlipStart halves handheld PC price
Yours for $699 now
FlipStart, the venture backed by Microsoft co-founder Paul Allen, has slashed the price of its eponymous handheld Windows PC by more than 50 per cent.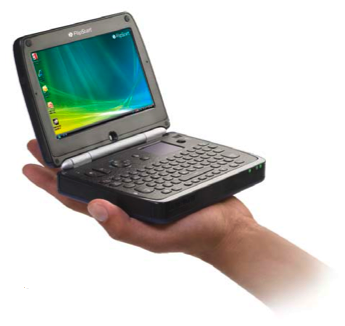 FlipStart's FlipStart PC: now (more than) half price
This week, the FlipStart PC began retailing for $699 - rather less than the $1499 it was priced at when the company launched it in March 2007.
The FlipStart is available with either Windows XP Pro or Windows Vista Business. It's powered by a 1.1GHz Intel Pentium M ultra-low voltage processor and packs in 512MB of DDR 2 memory, a 30GB hard drive and a 5.6in, 1024 x 600 display.
The compact clamshell's lid incorporates a second, external screen: a 1.8in, 200 x 176 panel that provides a PDA-style alert screen for the day's appointments, incoming email and so on. It has a 0.3-megapixel webcam too.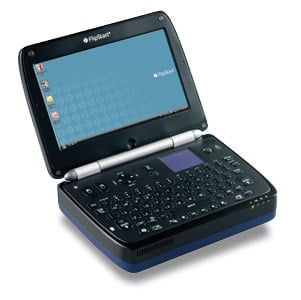 Squeezed out by sleeker, cheaper MacBook Air and Eee PC?
Not only 802.11b/g Wi-Fi and Bluetooth 2.0 but also EvDO mobile broadband complete the handheld's wireless connectivity options.
FlipStart emerged a couple of years back alongside the likes of Oqo, Bsquare and Tiqit, all out to develop new, Windows-friendly handheld laptop alternatives aimed primarily at big business. But they're now operating in a market where the likes of Asus' Eee PC, Everex's CloudBook, Belinea's s.book and Packard Bell's EasyNote XS20 offer comparable specifications for a fraction of the price. The last two come with Windows pre-installed, and so will the Eee later this year.
And if tiny's not your thing, Toshiba's Portege R500, Sony's Vaio TZ and now Apple's MacBook Air can all do what the FlipStart can with better performance and in a very portable, less-than-laptop form-factor.