Boffins in America have finally put aside childish things and set themselves to the task of genuinely benefiting humanity, according to reports. The US brainboxes believe they are well on the way to designing contact lenses with video screens in them.
The technology was showcased at a microsystems engineering conference yesterday by Harvey Ho, late of the University of Washington and now working at the Sandia National Lab in California. Ho had done much of his research while a grad student at Washington, supervised by UW prof Babak Parviz.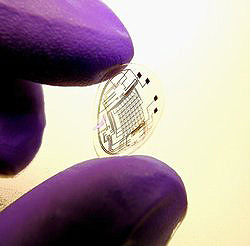 How you'll see the future, in future.
"Looking through a completed lens, you would see what the display is generating superimposed on the world outside," said Parviz yesterday.
"People may find all sorts of applications for it that we have not thought about. Our goal is to demonstrate the basic technology and make sure it works and that it's safe."
According to the university, the "lenses were tested on rabbits for up to 20 minutes and the animals showed no adverse effects". The testing was probably quite limited, though, as the video contact lenses are at a rather early stage of development. Thus far, the prototype equipment contains only very basic circuitry and a few LEDs rather than a usable display, and it lacks a power source which would let it actually light up.
Content options in no-pixels-at-all format being limited, we suspect that the rabbit beta testers may have found the experience unsatisfying. But Parviz reckons the kit has potential to move forward quickly. He says that future versions could draw power from RF induction and/or "solar cells placed on the lens", apparently.
"There is a large area outside of the transparent part of the eye that we can use for placing instrumentation," added the prof, addressing concerns that the necessary circuitry might obstruct users' normal vision.
HD vid contact lenses are a while off, seemingly, but more basic displays - maybe more in the style of old-school calculators and digital watches than pixel grids - could be up and running "fairly quickly," according to Parviz. It might not be that long before you can get caller-ID from your cellphone or suchlike right in your eye, without resorting to William Gibson style replacement cyberpunk eyes.
Lordy. Read the university press release here. ®