French ordinateuristes can now buy Asus' elfin Eee PC with integrated HSDPA 3G, courtesy of local carrier SFR.
The package bundles an white Eee PC 4G with a similarly hued USB HSDPA modem capable of download speeds of up to 3.6Mb/s.
SFR wants €299 (£223/$435) for the lot, but it's pledging to give €100 of it back after buyers have signed up. The deal also requires purchasers to take out a connectivity subscription: €29.90 per month for 24 months, or €34.90 a month for 12 months.
Since the whole things is a special deal, SFR's only offering 1000 of these Eee plus 3G packages in total. The offer ends on Wednesday, according to the SFR website.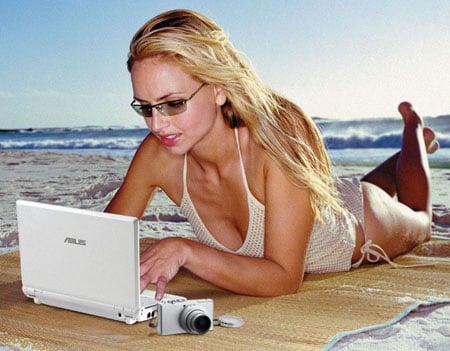 Asus Eee PC and friend: au bord de la mer
Ironically, the Eee PC should be able to have a 3G modem mounted inside it's diminutive casing - or would if Asus hadn't cheekily stopped fitting a secondary Mini PCI port within the Eee's expansion bay. First-generation Eee PCs had such a slot, but recent versions of the laptop - include this reporter's own unit, bought just before Christmas - do not.
Thanks to reader Steve for the tip.
Related Reviews
• Vodafone USB Modem 7.2
• Asus Eee PC 4G