Lindsay Lohan nominated for multiple Razzies
Worst actress, worst screen couple...
Lindsay Lohan has been nominated for worst actress in this year's Razzies for her performance in I Know Who Killed Me, a film so diabolical it has no fewer than nine nominations in total, including worst Horror Movie, Screenplay, Director, Remake/Rip-Off, Supporting Actress and Actress (2x).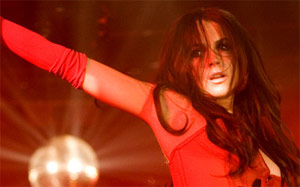 The last of these acknowledges that Lohan plays two characters in the film, and has accordingly been nominated for a brace of Worst Actress gongs. The flick is also in the running for the Worst Screen Couple, or "Lohan appearing opposite herself", as the Razzies website explains.
In this, however, she faces heavyweight competition in the form of Eddie Murphy for Norbit, which is up for Worst Screen Couple, Screenplay, Director, Supporting Actor, Supporting Actress and Actor (2x). As with Lohan, Murphy has attracted multiple nominations for his cast of characters, as well as the Worst Couple honour for playing his own wife.
Razzies founder John Wilson explained: "We decided that each of his characters was so offensive that he deserved individual nominations."
Lohan, meanwhile, looks a dead cert for the worst thespiatrix, having apparently been polled "more heavily than any actor since Sofia Coppola in The Godfather Part III". Making up the numbers in that category are Logan Browning, Janel Parrish, Nathalia Ramos and Skyler Shaye for Bratz; Jessica Alba for an impressive set of three films, Awake, Fantastic Four: Rise of the Silver Surfer and Good Luck Chuck; Elisha Cuthbert for Captivity and Diane Keaton for Because I Said So.
The race for Worst Film will be between Lohan and Murphy's celluloid disasters, Bratz, Daddy Day Camp and I Now Pronounce You Chuck & Larry. Movie buffs will find out the results of this clash of titans on 23 February. ®
And the Paris Hilton angle?
Ah yes, we're glad you asked. The highly-talented Ms Hilton was crowned Worst Supporting Actress back in 2006 for her contribution to House Of Wax.