You're gullible Finns... bitch
Nokia woos Facebook - report
---
Nokia is in talks to acquire a stake in Facebook, according to Mobile Content News. The website reports that the two companies are mulling a development agreement which involves "porting the social network on to Nokia handsets in a major way".
(We wonder what porting it "in a minor way" might mean - perhaps you only see pokes or vampire bites, but no messages or photos?)
Neither Nokia nor Facebook would confirm the report.
The news won't surprise Nokia watchers. After a decade of being beaten up by financial analysts - while consistently proving them wrong - Nokia now finds itself paralyzed by a lack of confidence. This has left it easy pickings for any marketing consultant who can throw the word "EMERGENT" onto a PowerPoint™ presentation.
As a consequence, the bewildered Finns don't know what's hit them. For an example of this, have a look at this presentation from (porn-obsessed) VP of advertising agency Ogilvy, Rory Sutherland [PDF, 2.3MB].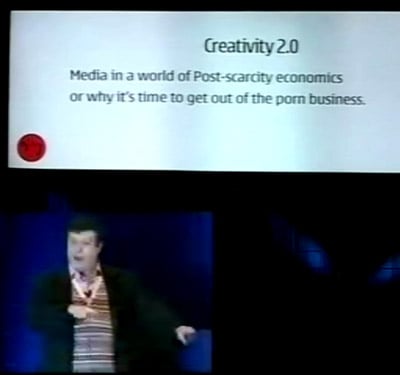 (Imagine Ronnie Barker squeezed into Ronnie Corbett's tank top - talking nonstop Web 2.0 bollocks for an hour, in the way that only an advertising executive with an open-ended budget can.)
Nokia's UK MD Simon Ainslie recently confirmed that Nokia wants to be a Web 2.0 company.
But at what price?
Although a Facebook/Nokia deal looks good for both parties, Nokia needs to remember its core market strengths. Ominously, however, the phone giant is so bamboozled by the greedy webtards that it looks set to be taken to the cleaners again. According to Moconews:
"The deal involves giving Facebook a major slot within Nokia retail products' displays."
Picture yourself at the negotiating table. In such deals, it's traditional for the service provider to pay the gatekeeper for access to the users - not the other way around. Remember that Facebook has no mobile experience, and can offer no evidence that Facebook is anything other than a sitdown, PC-based leisure activity. Nokia has close to a billion users, while Facebook has just 50m regulars. In other words, Facebook should be paying Nokia for prominent placement on its handsets - and not the other way around.
If Nokia thinks it needs to throw shareholders' money down the drain for an inflated equity stake in Facebook, rather than seeing it as a revenue stream, then the Nokia executives really are where Mark "I'm CEO... bitch" Zuckerberg wants them.
Call it Nokia's "itsemurha" strategy. ®