AMD Phenom 9500 processor
AMD's four-core desktop CPU squares up for a fight with Intel's Core 2 Quad
Review Throughout last year, we ran a steady stream of news about the AMD's Phenom quad-core processor, mainly because the chip was delayed. When the launch finally took place, AMD took us to Warsaw where we were told again and again about the virtues of its Spider platform: a combination of a Phenom processor, a motherboard with an AMD 790 chipset and a pair of ATI Radeon HD 3870 graphics cards.
We were waiting for the bell to ring so we could move to the next room where there were some 40 Spider-based PCs waiting for us when it was casually mentioned that the 2.4GHz Phenom 9700 inside the test systems had been pulled at the last moment so there would only be two Phenoms at launch, the 2.2GHz 9500 and the 2.3GHz 9600.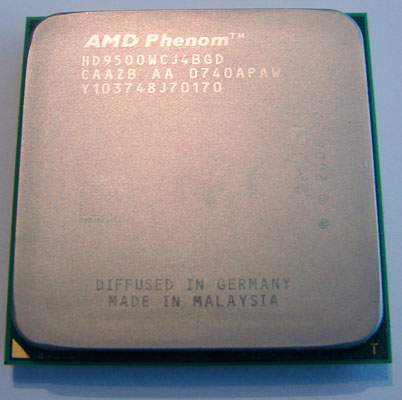 AMD's Phenom 9500: readily available
The problem, we were told, related to the Translation Lookaside Buffer and L3 cache, and was one of those naughty technical issues that would never manifest itself in the real world. However, AMD had to cover itself, so the 9700 was pulled. The nature of the problem means that it can be masked by a BIOS fix that has a performance hit of at least ten per cent, which sounds like the sort of figure you'd expect if you disabled the L3 cache.
The fact, that the 9700 wouldn't be available to the buying public until it had undergone at least one revision meant that the test session was a waste of time, as would be evaluating the 9700-based test system AMD sent us a soon afterwards. Or, rather, AMD sent a system with a Phenom engineering sample running at 2.4GHz which we assumed was a Phenom 9700.
This was silly for two reasons. First, AMD doesn't sell PCs or motherboards so all we wanted was a Phenom CPU. Second. the 2.4GHz CPU hadn't been released so there didn't seem much point in reviewing this model. Instead, we put our money on the counter and bought a retail, boxed Phenom 9500 for £155 which is a mere £5 less than a 2.4GHz Intel Core 2 Quad Q6600.
AMD lists a number of advantages for Phenom over Core 2 Quad starting with the true quad-core design - the Intel approach simple builds two dual-core CPUs into a single package. Added to that, you get 2MB of shared L3 cache, Cool'n'Quiet 2.0 technology for low-power operation, the fast HyperTransport 3.0 bus and support for 1067MHz DDR 2 memory.