In OverDrive's Novice mode, the tuning is controlled by a slider that has ten positions. We worked through the options and were surprised to see how little the clocks increased at each step. For instance, level 3 raises the PCI Express (PCIe) bus from 104MHz to 108MHz, while level 4 bumps up HyperTransport from 200MHz to 202MHz.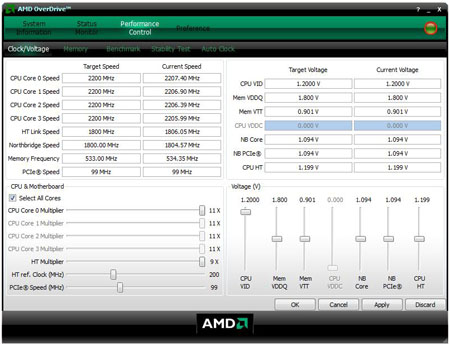 AMD's OverDrive: tweaking the CPU clock
The difference between level 1 and level 10 is that the CPU rose from 2220MHz to 2255MHz, memory speed from 1066MHz to 1094MHz, PCIe from 100MHz to 120MHz, and the Hyper Transport bus from 200MHz to 205MHz which all looks a bit feeble really. The PCMark05 score went from 7723 marks to 8050 which is rather negligible.
Overclocking the 2.4GHz Phenom raised the CPU speed to 2460MHz, the memory to 1094MHz, PCIe bus to 120MHz and HyperTransport to 205MHz with the result that the PCMark05 score rose from 8183 to 8397.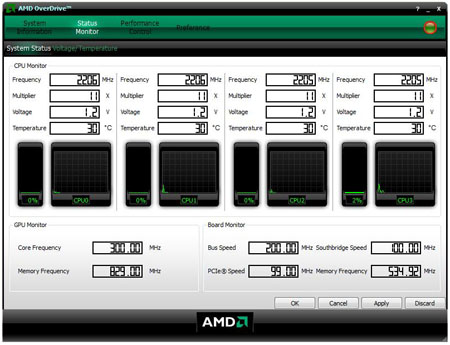 Status read-out
Naturally. we also tried the OverDrive in Advanced Mode but we found that overclocking the Phenom 9500 was very hit and miss. If you can persuade a Phenom to run above 2.6GHz you'll have done very well indeed and it very much feels as though AMD has launched these new processors at clock speeds which sound rather low but which are close to the limits of stable performance.
Verdict
AMD has clearly priced the Phenom at the same level as the Q6600 and in that respect it misses the mark as the Intel option delivers better performance at standard clock speeds and will overclock like a dream.
To add to AMD's woes, Intel is already making the transition to the 45nm 'Penryn', which will raise clock speeds way out of reach of Phenom. At the other end of the scale, Intel can use its 'faulty' architecture to dish up dual-core processors which will keep costs down while the best that AMD can do is to disable one core and release the result as a tri-core Phenom 8000.
It seems that 2008 is not going to be a good year for AMD.

AMD Phenom 9500 processor
AMD's Phenom squares up for a fight with the Intel Core 2 Quad, but comes out with the bruises...