This article is more than 1 year old
Designs for SpaceShipTwo displayed in New York
Astronomical price gets you astronautical experience
New designs for Virgin Galactic's SpaceShipTwo rocket plane and the WhiteKnightTwo mothership were unveiled in New York today, supposedly bringing commercial space travel once step nearer.
Richard Branson, the man behind Virgin Galactic, hopes that with this design he will be the first to offer paying passengers a trip into space on a regular basis next year. He admitted in October 2007 that "space tourism is still a few years away from operations", so with testing due to begin in June and a forecast of commercial flights beginning 12 months later, this is not something he's rushed into.
In July of last year, three employees were killed and another three badly hurt when a propellant system blew up during testing.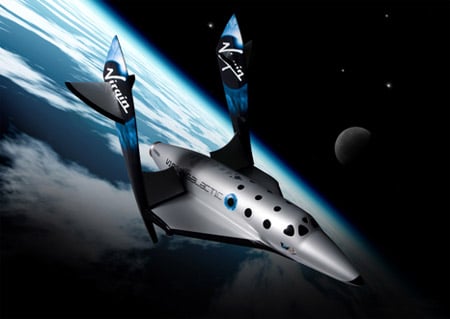 Virgin Galactic SpaceShipTwo: limited space available
Virgin Galactic was formed in the wake of Scaled Composites' 2004 Ansari X-Prize triumph, when its privately-developed SpaceShipOne suborbital rocketplane was first to achieve the X-Prize goals. SpaceShipOne was funded by Microsoft co-founder Paul Allen, and then Richard Branson subsequently stepped in with £60m to order a fleet of five scaled-up passenger craft and a number of WhiteKnight launch platforms.
The plans on display show that the WhiteKnightTwo plane has spread out and sprouted another passenger cabin on its 140-foot-long wing. The two cabins and four Pratt & Whitney jet engines straddle a central mount for the rocket plane. This will be carried to an altitude of 50,000 feet and dropped. Then SpaceShipTwo will light up its hybrid rocket engine for the final push to the edge of outer space.
More than 200 potential flyers with an abundance of The Green Stuff are believed to have already paid deposits for the £100k flights, including such luminaries as Victoria Principal, Stephen Hawking and Princess Beatrice. ®