Linux-less Eee PC launched in Japan
Windows XP Home and free 4GB SDHC card instead
---
Asus has formally launched its bonsai laptop, the Eee PC, in Japan, pre-installing the machine with Windows XP Home Edition rather than Linux.
The machine's specifications proved to be those of the standard 4GB solid-state disc model - the Eee PC 701, aka the 4G, though in Japan it's called the 4G-X.
In addition to 4GB of storage, the 0.92kg 4G-X has 512MB of DDR 2 memory, a 7in, 800 x 480 display, three USB 2.0 ports, SDHC memory card reader, 10/100Mb/s Ethernet, 802.11b/g Wi-Fi and a 0.3-megapixel webcam.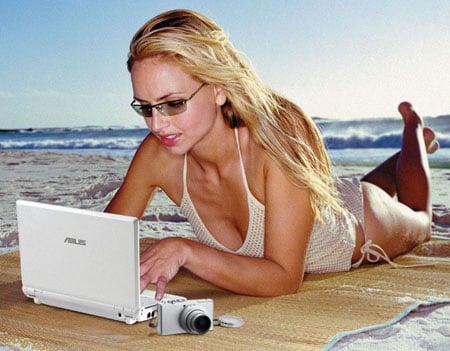 Asus Eee PC and friend: big in Japan?
The unit contains an Intel Celeron M processor rated at 900MHz. Windows XP running on Western Eee PCs usually notes the CPU is actually clocked at 630MHz. It's not yet clear which of these two clock speeds the Japanese model's chip actually runs at.
Japanese buyers get a choice of white or black colours. However, Asus is bundling the Eee with a 4GB SDHC card, allowing Asus to claim the 4G-X comes with 8GB of storage. Buyers also get an optical mouse. It'll also be offered with free access to NTT's WiFine hotspot network.
The Asus Eee PC 4G-X goes on sale in Japan on Friday. Anyone who spots a duff pixel on the machine's display will get a free replacement - provided they notify Asus within 30 days of purchase.
The 4G-X will cost ¥50,000 ($468/£239/€320).
Related Reviews
• Asus Eee PC 701 4G