Ferrari-totalling ex-Gizmondo boss out of jail
Look out, Fat Steffe's back
---
Stefan 'Fat Steffe' Eriksson, the former boss of bankrupt videogame gadget outfit Gizmondo, is set to be booted out of the US having served his time in the Big House.
Swedish newspapers say Eriksson has been released early and is waiting at a deportation centre outside Los Angeles to be put on a flight home. The US Swedish embassy has smoothed over some passport issues, it's reported.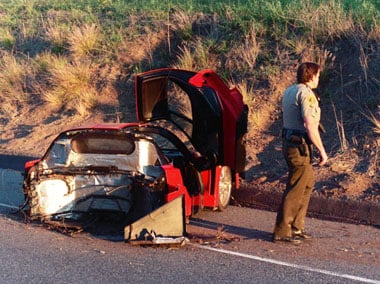 Fat Steffe was arrested by sheriffs in April 2006 following a little prang in a Ferrari Enzo (aftermath pictured) near Malibu.
He had claimed a mysterious German known only as "Dietrich" had been driving at the time of the 162mph smash, but DNA testing on steering wheel blood pointed the finger at Fat Steffe.
It transpired the Ferrari was one of several supercars apparently belonging to a British leasing firm and shipped to the US after he quit Gizmondo. Swedish press reports had revealed his mid-1990s financial convictions and Gizmondo went titsup soon after.
In November 2006, he pleaded no contest to charges of embezzlement and to being a felon in possession of a firearm
Those unfamiliar with the entertaining Fat Steffe saga should check out our related stories below. ®