This article is more than 1 year old
Plantronics talks up Bluetooth headsetage
Music, chatter and PC connectivity
Audio accessory maker Plantronics has showcased two of its latest headsets, each able to simultaneously connect to multiple phones.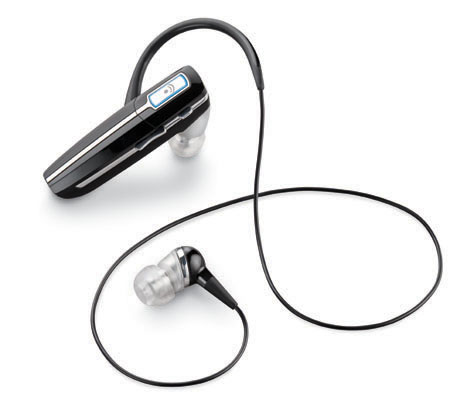 Plantronics' Voyager 855: morphs into a pair of cans
The Voyager 855 and .Audio 920 feature multipoint technology, which the manufacturer said lets both connect to two mobile phones at the same time. So, if your boss calls when you're on the phone to your missus, then simply press either headsets' connection button and you'll be swapped over to the other incoming call.
Plantronics will ship the 855 with an additional ear bud which slots into the headset's ear hook and turns it into a pair of headphones. This means you'll be able to listen to telephone calls with two earbuds providing sound, although it'll be in mono, or stereo music if your handset supports wireless A2DP transfers.
The 855 also has the benefit of a slide-out arm that brings the microphone closer to your mouth, which Plantronics claimed results in better quality audio pick-up. However, both headsets feature noise-reduction technology, increasingly a standard on new Bluetooth headsets.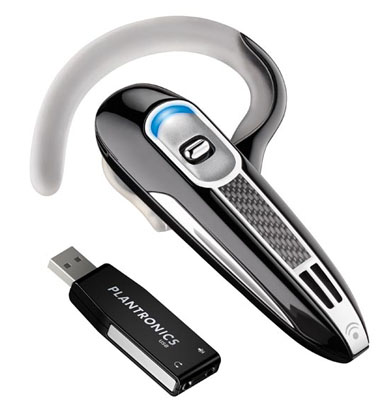 The .Audio 920 is PC friendly
If you're looking for a resounding feature on the .Audio 920, then it's a USB Bluetooth dongle that allows you to manage software with voice activation features or make calls over VoIP through your PC.
You'll get up to eight hours' talk time with the .Audio 920, but only seven with the Voyager 855, Plantronics said.
Both headsets are available now, priced at £70 (€95/$140) each.