This article is more than 1 year old
Phone with foldable e-paper display to get summer roll-out
Paperbacks out-evolved?
Manufacturer Polymer Vision has announced that its Readius e-reader, which features a foldable, roll-out 5in screen, will finally hit stores later this year.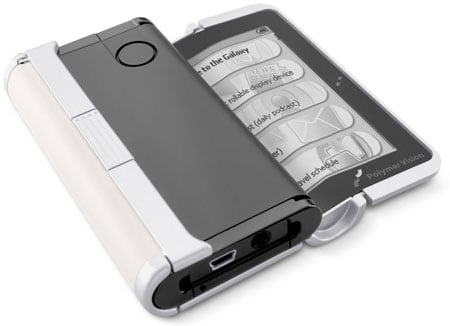 Polymer Vision's Readius: has a 5in display and makes calls
A prototype Readius has been around for some time, but this is the first time Polymer, which was created by electronics giant Philips and Telecom Italia, has named an official ship date, however vague it may be.
A potential rival to Amazon's Kindle or Sony's eBook, the Readius' screen rolls out like a sheet of Clingfilm and is primarily designed for displaying text, such as from e-books and RSS feeds, thanks to its 16 levels of grey.
It has tri-band GSM/GPRS connectivity with HSDPA 3G, although the lack of an external display for quickly making calls on the go could be a drawback. If your boss stumps up the cash for one though, then he'll be glad to know that POP3 and IMAP email is supported, as are web-based alternatives, such as Yahoo! Mail and Gmail.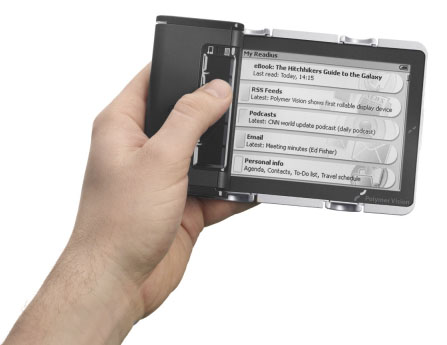 The Readius is a handy size
Polymer Vision claims the gadget gives about 30 hours of continuous reading time when the screen's unfolded. But it also works as an audio player, so you should be able to fold the screen and relax to tunes stored on it.
As a storage device, the Readius accepts Micro SD cards of up to 8GB. A USB 2.0 port and Bluetooth 2.0 connectivity mean it'll be handy for sending data to other devices.
The bad news is that Polymer Vision hasn't yet said which countries the Readius will be available in first or how much it'll cost.