Dell XPS M1330 laptop
Polished, portable powerhouse
Review Dell's XPS range has been synonymous with high-performance gaming computers. However, once it acquired gaming manufacturer Alienware, a subtle shift in branding saw some less focused multimedia-based machines being pushed out under the XPS banner.
The XPS M1330 follows in the footsteps of the XPS M1210, a 12.1in machine that was one of the first of the PC giant's ultra-portables to cram in a dedicated graphics chip. Although it could double the performance of its nearest rivals, it was also double the thickness, in order to keep hat GPU cool.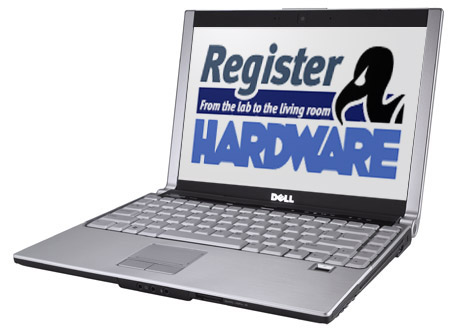 Dell's XPS M1330: similar to Sony's SZ-series
The M1330 retains a dedicated graphics processor, but Dell claims that at just 25mm its machine is the thinnest 13.3in laptop in the world. Well, until the MacBook Air goes on sale - the Apple's machine's thickest part is thinner than the Dell's thinnest...
But these are not directly comparable machines. The first thing that sprang to mind when we clapped eyes on the M1330 was just how similar it is to Sony's Vaio SZ series. With a 13.3in display, wedge-shaped chassis heavily tapered at the front and brushed aluminium palm rests, it could be the Sony's long-lost brother.
In fact, Sony must be pretty miffed, as not only does the XPS share the SZ's good points, it also adds a dash of style and colour. If black doesn't do it for you, Dell also sells the XPS in Crimson Red - however, the additional colours available on other Dell products are strangely absent.
The coloured (or not) lid is finished in a rubbery plastic, which we found both tactile and hardwearing. The chassis itself uses magnesium alloy to offer strength and to peg the Dell's overall weight at a highly portable 2kg.
Like the Sony, this machine is available with either an LED-backlit display or a traditional, cheaper (by £50) fluorescent panel. Our review model featured the former, and we recommend the extra outlay - it's brighter than the regular screen and its colour reproduction was sublime.
Both types of screen feature a 1280 x 800 (WXGA) resolution, and we found images crisp and easy to view. Another reason to upgrade to the LED screen is for its power efficiency – we managed to get just under three and a half hours' use between charges with the six-cell battery in place.
This was despite the dedicated GPU, which saps more power than the integrated graphics cores usually found on laptops of this size. But it wouldn't be an XPS without the ability to play games, even if the low-end Nvidia GeForce 8400M GS restricts you to older or less graphically-intensive titles.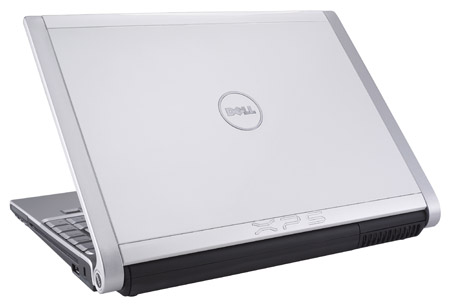 Powerful and portable
The M1330 managed a 3DMark06 score of 1421 when running in its native screen resolution. Drop the image quality down to 1024 x 768 and the score rises to 1653 – excellent for a 13.3in machine, but still an eternity away from what we've come to expect from the XPS brand.
Still, it's unrealistic to expect a more powerful GPU in a chassis of this size. Heat dissipation is managed with aplomb, the XPS remaining cool to the touch even under intensive use.
The aluminium palm rests are sturdy, and there's plenty of width in the chassis for a good-sized keyboard. The keys are finished in silver, and we found them responsive and quiet in action, and more than large enough for even the stubbiest of digits. There's also a range of touch-sensitive hotkeys below the display, allowing you to control your CDs and DVDs with ease.
The right side of the chassis offers a ExpressCard 54 slot, a switch to control wireless functions, and a USB 2.0 port. There's also a slot-loading DVD±R/RW drive. Future models will be available with a Blu-ray Disc drive, and there's an HDMI port on the left of the chassis for connecting the laptop to an HD TV.
Those with older monitors or projectors will be able to connect using the VGA socket. Other items on the left include a second USB 2.0 port, a mini Firewire connector and a Gigabit Ethernet socket. The rear of the machine is devoted entirely to the battery, and there's a three-in-one memory card reader on the front of the chassis.
Our machine was fully loaded with 802.11n Wi-Fi for speedy connections to wireless networks, and even an integrated HSDPA 3G module, letting you surf the web when you're away from a hotspot. Buyers on a budget can opt to drop these items or stick with a more basic 802.11b/g WLAN link.
You'll also find Bluetooth on offer, so you can connect to other digital devices without the use of wires. An integrated webcam in the top of the screen surround allows video calls, and there's also a built-in microphone. Interestingly, if you opt for the cheaper display, the XPS comes with a two-megapixel webcam. The camer on our LED model was just a 0.3-megapixel model.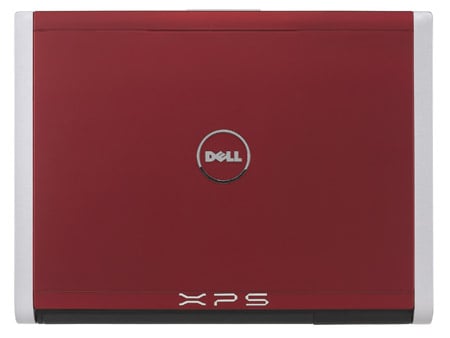 Different coloured lids are available
Processing power is impressive for an ultra-portable machine, with Intel's high-end 2.2GHz Core 2 Duo T7500 processor a £140 option. Our M1330 featured a 2GHz Core 2 Duo T7250 chip with an 800MHz frontside bus (FSB), and 1.5GHz and 1.66GHz models are also available.
With 2GB of memory supporting the processor, performance was better than average, with quick boot times and no sign of major lag. This was further backed up by our PCMark05 benchmark, in which the Dell scored an overall 4673 – an impressive result for such a portable machine. As such, we had no trouble whatsoever using it as our main laptop, with no need to resort to a more powerful PC when at home.
That we'd even consider using this compact laptop as our one and only machine shows just how good an all-rounder it is.
The 160GB hard drive offers more than enough storage space for most users, unless you're an ardent fan of downloading movies. If you do think your secret stash of media files will overwhelm the hard drive, you can upgrade to a more capacious 250GB disk for £70.
Verdict
Although XPS fans may lament the death of the brand as an indicator of single-minded gaming machines, the introduction of the XPS M1330 is a welcome one. This stylish laptop shows you can indeed have your cake and happily devour it, offering a great compromise between performance, features and portability.
Only those seeking the very smallest and lightest of laptops will find problems with the Dell, as it's definitely at the larger end of the ultra-portable market. It's because of this, however, that it can offer such a comprehensive specification. What's more, spec-for-spec, it's considerably cheaper than its most obvious rival, the Sony VAIO SZ6.

Dell XPS M1330 laptop
This portable powerhouse knocks the life out of rivals with its blend of performance, quality and price