This article is more than 1 year old
HD DVD player sales share slumps
Warner move has stronger pull than Toshiba price cuts?
This month hasn't just seen a relative decline in US HD DVD software sales - purchases of players appear to be down to, the latest figures from market watcher NPD suggest.
The numbers, relayed by website The Digital Bits, cover weekly sales of dedicated players - so the PS3 and the Xbox 360 add-on are not included - from the end of December 2007 through to the end of the second week of January.
For the week ending 29 December 2007, the two formats player marketshare stood at 39.81 per cent HD DVD and 60.19 per cent Blu-ray. The following week, ended 5 January 2008, HD DVD's share rose to 48.83 per cent, undoubtedly a result of Toshiba's player price cuts. Blu-ray accounted for 51.17 per cent of the market.
On the penultimate day of that week, Friday, 4 January, Warner Home Video went public on its plan to stop supporting HD DVD. The result: HD DVD's share of player sales in the following week plunged to less than ten per cent of the total - 7.47 per cent, to be precise.
US Standalone HD Player Sales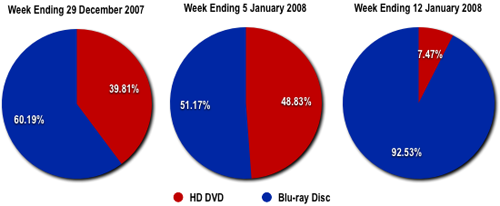 Source: NPD
Aggregating the January weekly numbers, The Digital Bits puts Blu-ray's share of player sales at around 70 per cent, and HD DVD's on 30 percent, a clear drop on the roughly 60:40 ratio at the end of December.
What these figures don't show is what the shift seen in the second week of January means for overall unit shipments of each format. But it does show that whether sales are rising or dipping in the post-Christmas lull, punters are buying more Blu-ray machines than HD DVD players. And that's before we bring the PS3 into the equation.
That said, two weeks' sales don't necessarily define a trend, and we look forward to further NPD numbers to see whether early January's numbers are a short-term slip or the shape of things to come.