Bloke takes missus up the Oxo Tower
A 'memorable experience', enthuses restaurant reviewer
NSFW Any reader who has a special date coming up - perhaps a wedding anniversary or other half's birthday - could do worse than consider taking a trip up the Oxo Tower, which comes highly recommended down at Restaurant-Guide.com: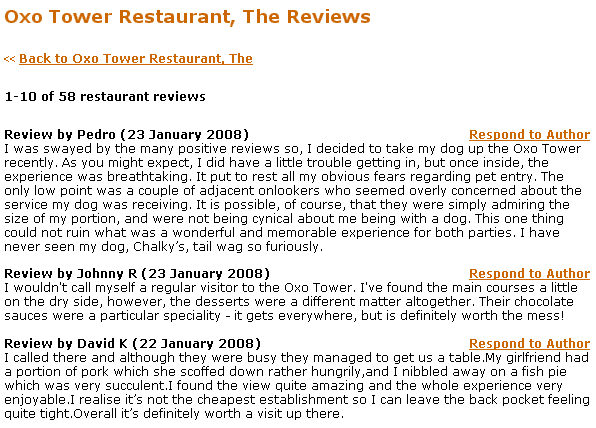 For those of you not au fait with the Oxo Tower, it's a south-of-the-river landmark with a restaurant on top. If you haven't yet savoured its hidden delights, here are a few more reviews to whet your appetite:
I took my friend Eleanor up the Oxo Tower last week and I must say it was lovely. In fact,she has recommended it to all her other friends. I'll be taking my other girlfriend Kerrie up there too. It is a truly brilliant restaurant.

My Husband has always nagged me to try it up at the Oxo Tower but, to be honest I am too tight and thought I wouldn't enjoy it very much. Well he finally convinced me to splash out and go. What an experience! The place was fantastic, the service was smooth and I had a fabulous time. I am so glad I let him take me up the Oxo Tower we would certainly be doing it again with some friends I hope.

I have tried to talk to my girlfriend into letting me take her to the Oxo Tower for the last few years now, but for some reason she just did not let me. So, as I couldn't wait any longer I took my friend Gordon up the Oxo Tower and it was a wonderful experience that has changed us forever.
Well, you can't argue with that. We can't help wondering if some of the above satisfied customers didn't also offer reviews of Katie Price and Peter Andre's A Whole New World, described by one as a collection of songs "so emotional, I go weak at the sphincter". ®
Bootnote
Yeah, yeah, we know - this piece of silliness appeared in last week's B3TA newsletter. So what?