Samsung SGH-F700 smartphone
iPhone insurrection quashed without incident
---
Review With the world and his wife seemingly happy with either Symbian or Windows Mobile running their smartphones, any phone OS newcomer - especially one without an Apple logo slapped on it - has something of a hill to climb.
Samsung's new F700 actually has two mountains to tackle. The touchscreen UI makes for an obvious comparison with the iPhone - reviewed here - so it clearly needs to compete with that. But it also needs to convince those of us attached to our more workaday N95s and TyTns that moving to a smartphone with an alien OS isn't going to get us into a world of pain for the sake of some fancy packaging and trick stylus-less UI.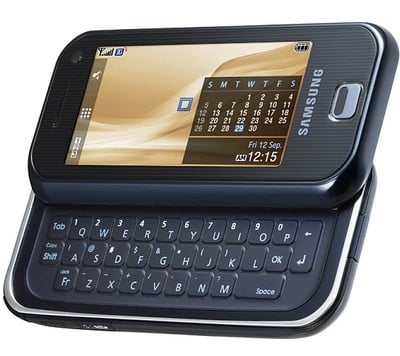 Samsung's SGH-F700: a gentle nudge reveals a respectable keypad
On looks alone the F700 gets off to a good start. The glossy black handset measures up at 112 x 56 x 16mm and weighs 139g, making it broadly comparable to the iPhone and a tad larger than the LG Prada handset - reviewed here. Nudge the upper half to the right and a rather fine Qwerty keyboard is revealed, which explains the extra thickness over its two main rivals. Rather strangely, the unit comes with two different rear battery panel covers - a gloss black one which matches the front of the unit but really shows up fingerprints, and a matt black one that doesn't match and doesn't show prints.
The slide action of the handset is very smooth and nicely weighted, with a closing spring action that has enough force to ensure that it won't open accidentally when in use.
The Samsung's technical specification is hardly shabby either, coming loaded with tri-band GSM and HSDPA 3G good for 3.6Mb/s; a three-megapixel camera with flash; 100MB of shared memory; a Micro SD slot that'll take 4GB cards and comes complete with a 1GB card; A2DP Bluetooth stereo; a media player; and a messaging application that can handle IMAP4 and POP3 email. Plus there's all the expected subsidiary refinements we have come expect: a world clock, unit converter, web browser, voice recorder, document viewer, stopwatch and timer.
No Wi-Fi though, and perhaps less importantly no games, other than three demos. The Micro SD card can be hot-swapped, but you have to remove the rear battery cover to do so.
The Vodafone-branded test model we were supplied with also came pre-loaded with Google Maps, YouTube, MobileTV and a Java-based application called My Communities that allows access to the likes of Facebook, MySpace and Bebo along with such popular IM protocols as MSN Live, AIM and Yahoo! Messenger.