Samsung has followed its GX-10 digital SLR (DSLR) with the GX-20, which is the first DSLR to feature an image sensor manufactured by the South Korean colossus.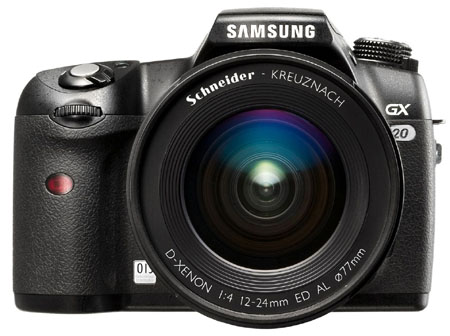 Samsung produced its own 14.6-megapixel CMOS sensor for the GX-20
The company claims that by producing its own sensors, its cameras benefit from reductions in size and pricing across the board. The GX-20 still comes with a £700 (€940/$1360) price tag though, but that does include an 18-55mm lens.
The GX-20 builds on the GX-10's 10.2 million pixels to offer a 14.6-megapixel sensor. But it only replaces the GX-10's 2.5in display with a slightly larger, wide-view 2.7in LCD. It also has an optical viewfinder.
Blurred images shouldn't be a problem, because Samsung claimed that the GX-20's able to physically shift its CCD to counter any movement of the camera's body both horizontally and vertically. For example, if you get the shakes during a celeb photo shoot and the camera moves to the right, then its CCD will move to the left by the same degree. This, Samsung claimed, eliminates the need for anti-shake circuitry.
Likewise, if you're shooting on a breezy, rainy hillside then you'll be glad to know that 72 potential access points for grime and dirt have been sealed off. It also has a top ISO sensitivity of 6400, which is significantly higher than the GX-10's maximum sensitivity.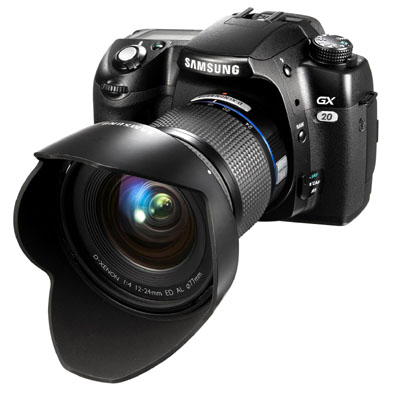 An 18-55mm lens is thrown in
A one-touch RAW button's built in, enabling you to view RAW format pictures on the display and convert them into JPEG through a built-in convertor. When shooting in RAW, you'll be able to capture up to nine frames per second (f/s), but that drops to 3f/s when you opt for JPEG.
There's barely a fag paper between the maximum image sizes each mode can capture, though. RAW mode will get you a 4688 x 3120 resolution shot, whilst JPEG mode produces 4672 x 3120 snaps.
The camera accepts SDHC memory cards of up to 4GB, the contents of which can be transferred to your PC via the built-in USB 2.0 port if you lack a suitable card reader.
You can get your mitts on the Samsung GX-20 from March.
Related Reviews
• Sony Cyber-shot DSC-H3 'superzoom' camera