Netgear UK has asked anyone who owns and uses its XE103 85Mb/s powerline Ethernet adaptor to send them back - all 82,000 of the ones that it's sold here and elsewhere in Europe.
The XE103 adaptor allows you to connect networked devices over mains power wiring rather than standard Ethernet cables. They're based on the HomePlug Turbo powerline standard.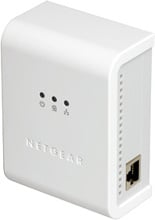 Netgear's XE103: 240V version recalled
All well and good, but Netgear this month admitted there's a possibility that one of the adaptor's chips can break down. That would not only stop the unit from working, which is bad enough, but could also cause it to overheat and, potentially, cause a fire.
That said, Netgear hasn't come across any instance where this has happened, and it described the recall as a precautionary measure.
The problem only affects versions of the XE103 that operate 220-240V power lines. Countries that use 100-120V power, such as the US, are not affected by the recall.
If you have a 240V XE103, Netgear recommends that you stop using it. It's posted a web page on which you can check your units' serial numbers to see if they're covered by the recall. If they are, you'll find details on how to get them replaced.
Related Reviews
• Devolo dLAN Wireless Extender
• Solwise Simple Connect powerline Ethernet adaptor
• Netgear XEPS103 powerline power brick
• Netgear HDX101 200Mbps powerline Ethernet adaptor