Review Business is business, so it's no surprise that the world's most successful mobile maker knows exactly what makes the executive phone user swoon. Nokia has a long track-record of producing handsets that may not get consumers' pulses galloping, but which absolutely bowl over businesspeople.
The E51 is Nokia's latest of these. Its design is classic Nokia understatement - a slim candybar phone with an elegant metal trim and back panel adding a classy feel to the package. The metal edging is available in three flavours: shiny silver, black or bronze.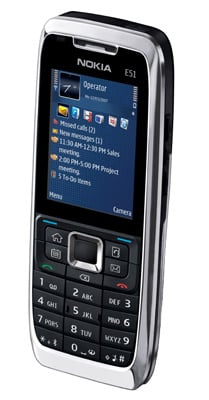 Nokia E51: pushing all the right buttons for businesspeople?
It's optimised for email, supports a wide range of popular push email offerings, and it features VoIP voice for low-cost calling over the internet via Wi-Fi. High-speed data connectivity is facilitated by HSDPA 3G.
While the E51 has been crafted first and foremost with business usage in mind, with plenty of office tools and personal information management features, Nokia does acknowledge that even business users like their multimedia distractions. The phone has an MP3 player, an FM radio, a RealPlayer video player and a two-megapixel camera on the back.
A subtle pinhead pattern etched on the back of the casing is not only aesthetically enhancing but also helps you grip the phone when you're tapping away at the numberpad. The E51 is a good size, measuring a long but slim 115 x 46 x 12mm. The metal casing helps push up the weight to 100g, giving it a substantial and well-balanced feel without being pocket-saggingly bulky.
Sponsored: Ransomware has gone nuclear