If you really must broadcast your music to everyone whilst walking the streets, then at least you can do it with style now. Thanks to Logitec's latest headphones/Bluetooth headset combo.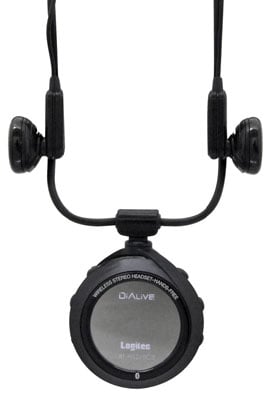 Logitec's headphone and speaker combination also accepts incoming calls
Called the DiAlive LBT-HP210C2BK, the gadget's essentially a standard pair of Bluetooth 2.0 headphones. However, the two earbuds' connecting cord has a small speaker fitted onto it.
The speaker's also got an integrated LCD display on its rear side to show who's interrupting your music when a call comes in. There's a microphone built in too, to let you talk back by holding the speaker up to your mouth.
You'll get about eight hours of operating time when using the gadget just for music and up to 11 hours when using it solely for telephone calls.
The LBT-HP210C2BK is available now in Japan, where it retails for about ¥8000 (£37/€50/$74). A UK release date or price isn't known yet.
Sponsored: How to simplify data protection on Amazon Web Services