This article is more than 1 year old
Qtrax puts legal face on P2P
But forgets to sign for the recordings...
Midem UpdatedSo when the going gets weird, the weird get ad-funded. Even in the short, strange history of digital music, they don't come weirder than Qtrax, a music service that launched here at Midem in Cannes today. It's a marriage of two desperate industries – the music business, and the ad-supported web startup. To steal a phrase from Sun's Scott McNealy, it's like watching two garbage trucks colliding.
So how weird is this?
Qtrax delivers an unlimited supply of free music to the web surfer, for them to keep, by scraping the Gnutella P2P network, sticking ads on the front end, filtering out the bogus files (that the IFPI and RIAA have put on the P2P networks in such abundance over the years), and wrapping the song files in DRM.
If that isn't surreal enough, the company pushed a bewildered looking James Blunt on stage with a broom to say how stealing from the sweat shop was wrong. And that he didn't really know much about what was going on – but he'd like to.
Qtrax is staffed by refugees from SpiralFrog, the clueless ad-supported web startup that was unveiled in a blaze of publicity but never quite launched properly – yet still managed to fork over $2m to Universal Music, the world's biggest record company, before it had made a single transaction. This is their latest suicidal tilt at the market.
If you're going to fail, I guess, then fail hard and fast.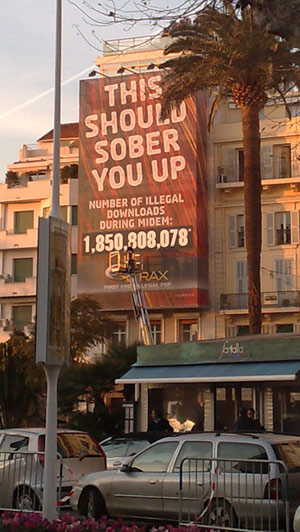 Qtrax updates its massive Midem poster. Perhaps it needs to work on signing some record companies.
The company has pinched what it could from open source land. The fat client is a custom version of Firefox, with a fork of the Songbird music player layered on top. Normally software developers could expect a decent license fee from a $30m start-up for use of their work - but in the new Tim 2.0'Reilly "freetard" model, the Firefox and Songbird developers don't get a cent for their labour - merely the satisfaction that they're "building a platform".
The company also deploys MusicIP's filtering software to weed out noise (such as the junk tracks that contain pops and clicks) as well as unlicensed material such as The Beatles catalog.
Qtrax has plastered Cannes with saturation advertising. And it's won glowing plaudits from the visiting mainstream press.
The Times is enthusiastic: "After a decade fighting to stop illegal file-sharing, the music industry will give fans today what they have always wanted: an unlimited supply of free and legal songs," it writes. A credulous Wired report repeated the company's claim that the service offered 25m songs, whereas that's the theoretical size of the publishing catalog Qtrax has licensed. If there are only five songs on the Gnutella network that get past Qtrax filtering at any one time – then five songs is all you can get.
Reg readers will be able to spot the flaws in the plan, summarized for us by Dan Cryan of research firm Screen Digest:
"Free on its own is not enough," he told us. "It's an ad-funded model built around download an application, and that's a barrier to entry in itself."
The DRM ensures that music fans won't be able to take the music to go: it's tied to the host computer and the DRM collects play information to be beamed back to the mothership. The reporting isn't a deal breaker, but the incompatibility may well be. Qtrax said it's working on cracking Apple's FairPlay to allow iPod users to take the music and go.
Anyone who'd had to build an ad-supported business knows the pitfalls - if you don't have massive scale, you're competing with "a billion unwanted voices in real-time", as one reader memorably described Web 2.0. Jupiter's Mark Mulligan estimates that 100 clickthroughs are needed to generate rights holders enough to compensate them for the equivalent of one legal download through iTunes.
With a recession coming and bound to hit new entrants the hardest, we would advise Qtrax to burn through their VC money as fast as they possibly can. ®
Update
At its press conference, Qtrax claimed to have licenses with all four major record labels: Universal, Warner, Sony and EMI. Except they don't. Universal, Warner and EMI say no deals are in place, while an unconfirmed rumour we've heard says the Sony deal doesn't cover a download service. We can't confirm the figure for VC investment in Qtrax, so we've cut that from the original version of this story.