Maxdata Belinea s.book 1 sub-notebook
Hard drive-equipped Eee killer?
As we mentioned earlier, the s.book's screen is touch-sensitive – there's a telescopic metal stylus tucked into the lid – but we're not sure that's a big deal. Sure you can tap on icons to open them, but right-clicking isn't straightforward. And who wants to be fiddling with a stylus all the time? Yes you can use your finger instead, but you'll just smear the screen if you do.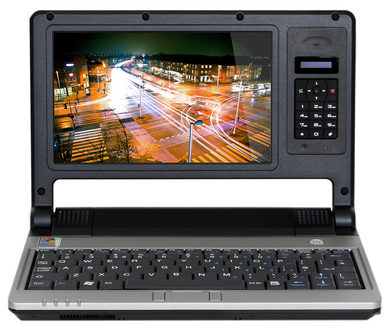 Screen on one side, VoIP handset on the other
We can see why, with the wee trackpad, Maxdata thought it would be clever to implement a touchscreen, but frankly we'd rather just carry on using a mouse. At least there's no Tablet PC nonsense here, and Maxdata's bundled a calibration utility to improve the s.book's ability to work out what your tapping on.
We tried it for a while but continually found our fingers unconsciously and instinctively moving to the trackpad.
The s.book has a pair of USB ports on the right side for this and other add-ons, and a 10/100Mb/s Ethernet port too. On the left side, you'll find a DVI port – a step up from the Eee's VGA connector – and a four-in-one memory card slot that takes SDHC cards, though they poke about 1.5cm out beyond the edge of the machine.
Speaking of connectivity, the s.book has 802.11b/g Wi-Fi too, just like the Eee. But it also has Bluetooth, a technology absent from the Asus. In all, then, this is a well-connected laptop.
But back to the screen. With the pre-installed version of Linux, the Eee is limited to 800 x 480. Under Windows XP, there's an utility from Asus that'll let you flip between 800 x 480 and 800 x 600. The latter retains the screen's native resolution – you just scroll up and down to view the extra vertical pixels.
The s.book likewise starts off at 800 x 480, but its S3 graphics software lets you quickly switch to 800 x 600,1000 x 600 and 1024 x 768, all pinned to the dimensions of the screen so there's no scrolling. Of course, non-native resolutions look pants, but at least it's a quick way of getting more space when you need it. Resolution switching is faster than it is on the Eee, and it's available right out of the box. It's possible to enable this process on the Eee but it's a hacking job, not something for ordinary users.
NanoBook Siblings
Maxdata's Belinea s.book 1 isn't the only sub-notebook based on VIA's NanoBook reference design, nor is it the first. Packard Bell's EasyNote XS20 was announced last autumn, and is available in the UK now. It has the same basic spec as the s.book, but with a 30GB HDD in place of the s.book's 80GB unit and packs a 0.3-megapixel webcam on board. Until recently, PB's UK supplier, the Dixons group, wanted £499 for the XS20, but now it's retailing for around £350.
In the US, Everex has just launched the CloudBook. It too has a 30GB hard drive, but drops Windows XP in favour of the Linux-based gOS. It's aggressively priced at $399 - the same price the 4GB Eee PC commands.