Maxdata Belinea s.book 1 sub-notebook
Hard drive-equipped Eee killer?
Drive, memory and procesor performance shouldn't be taken in isolation, and actually using the s.book, we found it to be entirely fit for purpose. Just as the Eee is. We're big fans of small laptops, and that means we like the Eee at lot. We like the s.book too, but not the pop-out VoIP handset it comes with. It's a small unit about the size of an old iPod Nano. There's a single-line OLED screen, and it connects to the sub-notebook over Bluetooth.
Allegedy, anyway. The unit doesn't even begin to charge until you flip it's tiny on/off switch. When it is, you're left to juggle three apps to get it to work: Toshiba's Bluetooth software; SkyWin, which links the handset to Skype; and Skype itself, which is pre-installed but in a version much later than the one described in the SkyWin manual.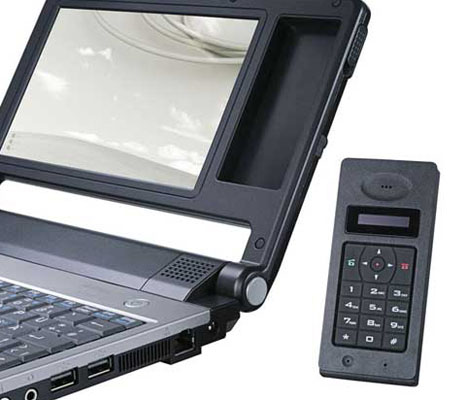 VoIP phone included
After going through this rigmarole, using it proved less than satisfactory. Button presses outlined in the manual didn't appear to work, and some key presses generated 'No API' messages. When we got two computer connected over Skype, we couldn't hear anything through the handset.
If you use Skype frequently and are prepared to put the time in getting the handset set up, good for you. But we suspect most users will get as frustrated with it as we did and, metaphorically speaking, chuck the thing across the room.
Poor add-ons aside, we did enjoy using the s.book. The Eee's relative lack of storage space isn't an issue for us because it's a secondary machine used primarily for writing, emailing and web browsing, but that doesn't mean we can't appreciate having 80GB of hard drive space for songs and other stuff too. Ditto Bluetooth, to be able to connect not to the VoIP gadget but to a mobile phone for cellular connectivity.
The s.book is pleasant to use, easier to type on than the Eee, though the touchpad is too small. This machine doesn't feel as cramped as its rival, even though its screen and keyboard are the same size as the Eee's, and it's only a slightly larger machine. There's no question, it's more comfortable to use than the Asus.
The only real negatives are the battery life, the almost constantly whirring fan and, if you're considering the Eee too, the slower processor. At £420, the s.book's £200 more than the Eee. For us, that's too much to pay for an 80GB hard drive, a rubbish VoIP handset and an unnecessary touchscreen.
Verdict
Like Asus' Eee PC, Maxdata's Belinea s.book 1 is a true UMPC, not one of those ghastly tablet things. It delivers the performance you need for productivity apps and browsing, in a small, easy-to-carry unit that's way cheaper than most small, 'executive' notebooks yet is packed with connectivity options.
Like the Eee, the s.book's short battery limits its mobility, and its constantly whirring fan will annoy some users, but it wins with its big storage capacity, good looks and, frankly, sheer bloody portability. But, at £200 cheaper, Eee remains the better buy.

Maxdata Belinea s.book 1 sub-notebook
A highly portable, well-connected sub-notebook hindered only by a high price, low battery life and unnecessary add-ons...