This article is more than 1 year old
SWsoft Parallels does Virtuozzo Containers 4.0 thing
Hypervisors are for the weak
SWsoft Parallels has today launched the finalized version of its anti-hypervisor approach to virtualization, Virtuozzo Containers 4.0. It also appears the company is officially SWsoft no longer. Banish the name from your mind.
A shiny new logo constructed, voilà: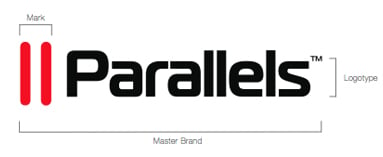 Understated, with a splash of web 2.0 color. A bold departure from horror vacui, yet ultimately grounded in con-...
While big name virtualization houses run multiple operating systems on a single server, Virtuozzo divides a single OS into different "containers." In a nutshell, it virtualizes the OS rather than the hardware.
If you missed our ever-intrepid coverage of the Virtuozzo 4.0 beta, here are the bullet points of enhancements:
Support for Windows Server 2003 and Red Hat Enterprise Linux clustering services, and backup enhancements.
Resource controls such as setting limits on bursts of CPU activity.
Real-time optimization of hardware resources, and an improved Virtuozzo file system to more effectively utilize hard disk resources
Virtuozzo Containers 4.0 is available now at $2,500 per dual CPU. ®