Ryanair has locked horns with the Advertising Standards Authority (ASA) over a newspaper advert featuring a "saucy schoolgirl", the BBC reports.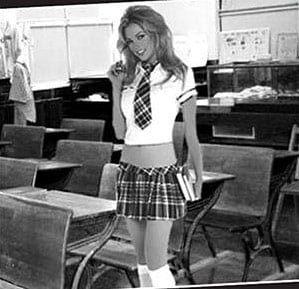 The advert punting cheap flights, which appeared in the Herald, Daily Mail and Scottish Daily Mail, shows a teen temptress (right) with the strapline "Hottest back to school fares". It attracted 13 complaints to the ASA insisting it was "offensive to show what appeared to be a schoolgirl posing and dressing provocatively and that the ad implied there were sexual connotations to the image".
According to the ASA adjudication, Ryanair "disagreed that the ad suggested sexual connotations" and further "believed it was obvious that the image was of a woman fully clothed and that the short skirt and bare midriff were representative of the type of clothing that was fashionable among young women in the UK".
Ryanair defended that it "believed the ad was likely to be found offensive only by the minority of people who were likely to find any such representation objectionable".
The ASA disagreed. It ruled that the ad "breached CAP Code clauses 2.2 (Social responsibility) and 5.1 (Decency)", explaining: "The ASA considered the model's clothing, which included long white socks and a tie, together with the setting of the ad in a classroom strongly suggested she was a schoolgirl. We considered that her appearance and pose, in conjunction with the heading 'HOTTEST,' appeared to link teenage girls with sexually provocative behaviour and was irresponsible and likely to cause serious or widespread offence."
The three newspapers involved agreed not to print the campaign again, and the ASA concluded: "We welcomed The Herald and the Daily and Scottish Mails's assurances that they would not run the ad again. We told Ryanair to withdraw the ad and to ensure that future ads complied with the CAP Code."
Ryanir, however, has refused to comply with the ASA's ruling. The airline's head of communications, Peter Sherrard, declared: "The ASA becomes more Monty Pythonesque by the day. It is remarkable that a picture of a fully-clothed model is now claimed to cause 'serious or widespread offence', when many of the UK's leading daily newspapers regularly run pictures of topless or partially-dressed females without causing any serious or widespread offence.
"This isn't advertising regulation, it is simply censorship. This bunch of unelected self-appointed dimwits are clearly incapable of fairly and impartially ruling on advertising."
Sherrard insited Ryanair would "not be withdrawing this ad" and would "not provide the ASA with any of the undertakings they seek".
In France, meanwhile, Ryanair may face legal action over another ad, this time featuring a lovely snap of Sarko the Terrible and squeeze Carla Bruni. The offending campaign shows the couple beaming with delight under the title "Ryanair. For Every Occasion", while Ms Bruni/Mrs Sarkozy (delete according strongest current rumour) ponders: "With Ryanair, all my family can come to the wedding".
In response to the outrage, Elysée spokesman David Martinon laid it on the line to AFP, announcing: "We're looking at all the legal avenues, because this is unacceptable." ®