This article is more than 1 year old
Apple ships Air
Love it or hate it, it's here
Apple has begun shipping its skinny MacBook Air laptop, a product that's managed to generate more controversy than even the iPhone has.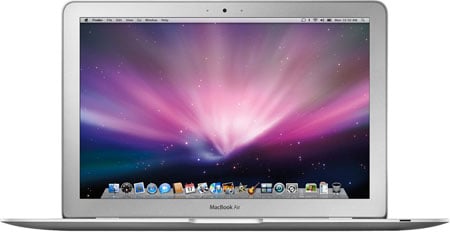 Apple's MacBook Air: slim...
The notebook is between 4mm and 19mm thick. It has a length of 32cm, a width of 22.7cm and weighs in at just 1.36kg. It has an LED-backlit 13.3in display and a full-size keyboard. The Air comes with a choice of 1.6GHz or 1.8GHz Core 2 Duo processor. For storage, it packs a 4200rpm, 1.8in 80GB HDD, though a rather pricier 64GB solid-state drive is also available.
There's no on-board optical drive, but that doesn't appear to have bothered many folk. What gets the goat of a fair few Register Hardware readers is the lack of portage, in particular an Ethernet socket, though Air owners can buy dongle that clips into the machine's USB port and provides an Ethernet port.
But then there's no other USB port to plug a mouse or a memory key into. In addition to the solitary USB port, there's a headphone socket and a mini-DVI port to drive an external monitor.
Apple's pitch is that the Air's first and foremost a wireless device - it has 802.11n Wi-Fi and Bluetooth 2.1 with Extended Data Rate (EDR) technology on board. The machine comes with software that allows any Mac running OS X 10.4.10 or above, or a PC with Windows XP or Vista, to 'lend' the Air is optical drive over the airwaves for software installation - but not media playback, it seems.

...very slim
The other irritation most commentators cite - well, apart from the whole Apple hyperbole thing, which probably pisses more people off than the hardware does - is the lack of a user-removable battery. That's a worry given Apple's record on battery replacement programmes and issues over the last couple of years.
Still, early looks at the Air have revealed replacing the battery's just a matter of unscrewing the laptop's base and pulling out the power cell. We reckon it won't be long before cheap third-party alternatives hit the market.
But that's still not going to be much use to folk who like to travel with multiple batteries to extend the away-from-the-mains life of their machines.
The 1.6GHz, 80GB Air costs £1199 in the UK and $1799 in the US. The 1.8GHz, 64GB SSD model costs £2028/$3098.
Video Preview
Apple MacBook Air