Review Nokia has boosted its N series with its most heavily-featured candybar yet. With a five-megapixel Carl Zeiss-lensed, xenon flash equipped camera and GPS, it's comparable to the N95 and one of the best cameraphones around. Even if it's not the prettiest.
Working on the principle that you shouldn't judge a book by the cover, anyone serious about getting a high-quality cameraphone should take a long hard look at the N82.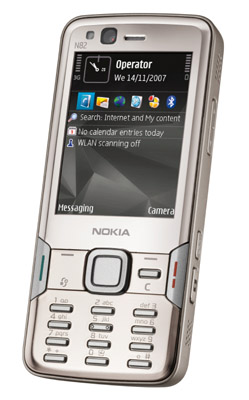 Nokia's N82: packs the capabilities of the N95
With Wi-Fi and HSDPA 3G connectivity, it has versatile options for high-speed web surfing and content downloading. It doesn't have the 8GB built-in storage capacity of the recently upgraded N95 8GB - reviewed here - just 100MB of internal dynamic memory. But the N82 does have the same media player plus a Micro SD card slot. The N82 comes with a 2GB card, but can take Micro SDs of up to 8GB. These are widely available for around £40, giving you an affordable route to upgrade to iPhone-like music player capacity.
Other plus points include unusually high video recording quality for a cameraphone, and the facility to upload pics and clips online to content sharing sites. The N82 is also one of the new breed of N-series phones to support the Nokia Music Store and revamped N-Gage gaming platform.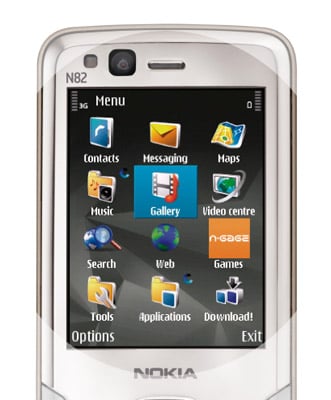 The screen is a decently-sized 2.4in, 240 x 320 display
The N82 doesn't quite have it all though. Head-turning good looks are, unfortunately, a stranger to this device. To be kind, with a bit of eye-squinting you could describe its face as 1980s-inspired future retro. A less generous interpretation would be 'a bit plasticky'.
While the footprint of the phone - 112 x 50.2 x 17.3mm - is slightly larger than the Nokia N73's, its weight has been kept down to 114g. The plastic casing used to achieve this gives it a lightweight feel, but unfortunately also a cheap look and feel to the silvered-up keypad and patterned rear panel.