Easy iPhone unlocking for $30?
Definitely not Apple certified
---
Online retailer Brando has begun selling a SIM card-sized device that it claims unlocks Apple's iPhone for use on any network, without the need for any complicated software or soldering iron surgery.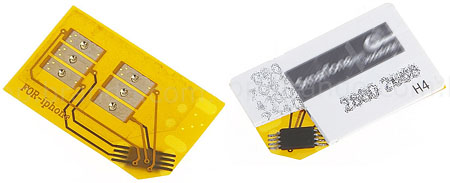 Brando's iPhone Unlock Card: the card's upper face (left) and with a SIM affixes
Dubbed the iPhone Unlock Card, the widget's supposedly able to unlock firmware version 1.1.2, which was released by Apple in November last year as the fourth iPhone firmware update.

Bladox's Turbo SIM seems very similar
Being quite sceptical, Register Hardware contacted Brando for more technical information about its card. Although the retailer wasn't very forthcoming, a spokeswoman did tell us that users must cut the corner off their SIM card and then clip it onto the unlocking card. The spokeswoman added that the card tricks the iPhone into believing it has a legitimate SIM card inside, much like rival products Super SIM and Turbo SIM do.
The latter isn't officially sold as an iPhone unlocking device by manufacturer Bladox, which first unveiled Turbo SIM in 2004. However, if you're looking for similarities between Brando's and Bladox's products, then it's found in the user description. Bladox states online that by cutting a small corner off your SIM card and inserting it into your phone in parallel with Turbo SIM, users will gain access to the unlocked phone of their choice.
Brando's iPhone Unlock Card is available now online for $30 (£15/€22). A European price hasn't been given.