Want an iPhone that runs Windows Mobile 6? China's the place to go. There you can pick up the T32, a handset that's almost identical to Apple's handset, with a few (minor?) differences.
First, it's quite a bit fatter - it's 15.5mm thick - and the screen's not up to iPhone spec, either. It's a 3.2in, 240 x 320 job to the iPhone's 3.5in, 320 x 480 display.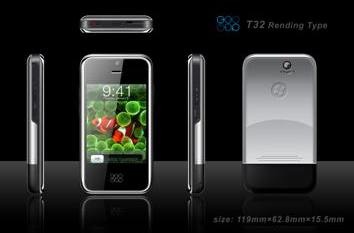 The T32: China's 'iPhone'
Like the iPhone, the T32 has a rear-facing two-megapixel camera, but there's a second one round the front, rated at three megapixels, according to the handset's website.
Good for video calling then? Well, no, because the T32 is tri-band GSM/GPRS/Edge - like the iPhone, it's not a 3G handset.
But it does have Wi-Fi, Bluetooth 1.2 with A2DP wireless stereo - another feature absent from the iPhone - an integrated GPS receiver and an expansion card socket. It also has a light sensor to adjust the screen's brightness according to the ambient light level, and there's a movement detector for auto-rotating the display to match the orientation of the phone.
Put the T32 up to your ear and it'll automatically turn the screen off to conserve battery power, just as Steve Jobs' phone does.
Alas, Chinese phone wholesaler Adrian Co. Ltd. doesn't say how much the T32 will cost you, but it welcomes enquiries from would-be buyers.