The reduced-size 65nm Core 2 Duo designed by Intel and incorporated inside Apple's super-slim MacBook Air is available for other computer makers to buy, the chip company confirmed last week.
No great surprise there - Intel's in the business of selling as many chips as possible, not operating as Apple's in-house silicon specialist - but the news hasn't stopped commentators speculating that a raft of Air-alternatives will be hitting the market in the very near future.
Again, no surprise there. Wherever Apple's innovation - whether it's come up with idea itself or, more usually, taken an existing product and run with with it, as per the iPod, the iPhone and, now, the Air - takes it, lesser brands are wont to follow. So there will be more skinny laptops coming, whether Intel makes its physically cut-down CPU available to other customers or not.
Come May, Intel will have a raft of low-power, high-performance 45nm Core 2 Duo processors ready for laptop makers. And don't forget 'Silverthorne', the 45nm ground-up-design UMPC chip that uses HyperThreading to boost performance while keeping the core count to one.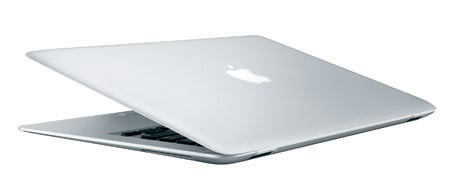 Apple's MacBook Air: smoooooth
It's not just the small processor that's made the Air possible. While that helps shrink the machine's motherboard a little, Apple's MacBook and MacBook Pro mobos aren't exactly large as it is. Neither are many other laptop boards. What makes the Air possible is the willingness to drop the optical drive and to use a handheld music player-grade hard drive until solid-state disks become cheap enough to be offered as standard.
Incidentally, what the Air does have over its rivals - whether you like the machine or not - is the best casing. Compare it to similar PCs, such as Toshiba's Portege R500, and while the Air is a smooth, solid product, thanks to its aluminium alloy shell, the R500 is clad in flexible plastic that's all humps, bumps and air vents.
Still, while the Air is nicer looking, it's clearly less functional - the R500 has plenty more ports and an integrated optical drive. Watch out for our full review of the Toshiba.