This article is more than 1 year old
Remembering the Coleco Adam
Electromagnetic pulse bomb in a beige box
This Old Box Technology product failures will always have a special spot in my heart. Perhaps it's comforting to know even when a team of seemingly talented and intelligent people put their heads together — it sometimes only results in a painful, coconut-like thud in the center of the huddle.

This week's box is a unique, multifaceted failure.
The Coleco Adam sunk its maker's chances in the home computer market and took its illustrious video game consoles kicking and screaming with it. The system was a cannonball so destructive, not even the Coleco's wildly popular Cabbage Patch Kids and storytelling ALF dolls could save the company from total bankruptcy.
Coleco Adam
Released: 1983
Price: $750
OS: Elementary Operating System (EOS), OS-7
Processor: Zilog Z80A at 3.58 MHz
Memory: 80k bytes, expandable to 144k bytes
Display: Attaches to TV; 256x192 resolution
Storage: One 256k byte cassette drive, optional second drive ($200)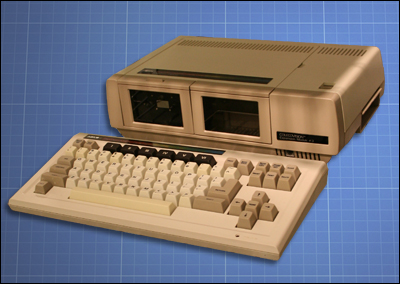 Industry legend states that Coleco named its first (and last) foray into the home computer market "Adam" because the system would take a bite out of Apple Computers. This of course wasn't the case. But the name did prove Biblically accurate in that both Adams were massive disappointments to their creators.
The system, at least, had pedigree going for it. Adam rode on the coattails of the company's hugely successful ColecoVision game console. But with the video game crash of 1983, Coleco decided its future was instead in home computing.
Let's step back for a moment to contemplate the company that spawned the Adam.
Coleco was originally founded in 1932 as Connecticut Leather Company by Russian immigrant Maurice Greenberg as a leather supplies dealer to shoemakers. Under the guidance of his two sons, the company expanded to fabricating plastic wading pools and eventually dropped the leather gig altogether in 1960.
From there, the company tried its hand at a lot of things — a doll carriage dealer, a hockey table maker, snowmobiles, dirt bikes — a series of hits and misses.
Then came Pong in 1975.

Coleco quickly joined the wave of companies rushing to imitate Atari's successful home console version of Pong. In 1976, Coleco introduced the Telstar, a ball-and-paddle clone based on General Instrument's low cost "Pong-on-a-chip" design.
The Telstar system was a hit at a low price of only $50 — about half the cost of Atari's home version. Coleco was also one of the few companies to receive its full order of pong chips due to GI's gross underestimation of demand.
Popularity of single-game systems dwindled, and Coleco floundered in an attempt to further capitalize the Telstar's success with production snags, chip shortages, and a East coast dock strike that held up components.
Coleco struck back at the home console market with the ColecoVision. The system was the technological rival of the Atari 5200 — but the 1983 crash was coming, and with it massive damage to the video game market.
Perhaps salvation would come through computers.