Dutch fire up petrol-pumping robot
'What could possibly go wrong?' wonders Reuters
RoTM The indolent Dutch may come to rue the day they ever heard the name of Nico van Staveren, petrol station operator and co-developer of a gas-pumping robot which can allegedly recognise your make of car, whip off the petrol cap and deliver the required amount of combustible.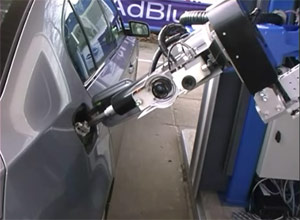 Reuters has quite correctly filed the "TankPitstop" (see pic) under "What could possibly go wrong?", and to be honest the list of potential threats to humanity from handing control of large quantities of flammable material to a cyberattendant is chilling indeed.
In case you're wondering how the €75,000 technological miracle does its stuff, it has a database of vehicles, with their corresponding fuel cap designs and fuel types. Reuters elaborates: "A robotic arm fitted with multiple sensors extends from a regular petrol pump, carefully opens the car's flap, unscrews the cap, picks up the fuel nozzle and directs it toward the tank opening, much as a human arm would, and as efficiently."
Mr van Staveren told the agency: "I was on a farm and I saw a robotic arm milking a cow. If a robot can do that then why can't it fill a car tank, I thought. Drivers needn't get dirty hands or smell of petrol again."
And yes, readers will by now have spotted the TankPitstop's fatal weakness: it only works with non-lockable fuel caps. Accordingly, anyone among the 95 per cent of people whose vehicles now boast an advanced key system are likely to be greeted by the Tankpitstop menacingly waving a box of matches while demanding: "Does not compute. Carbon-based lifeform will unlock fuel tank access port. You have 30 seconds to comply..." ®
Bootnote
Members of the neoLuddite Resistance Army are advised to familiarise themselves with the TankPitstop here. Please report any exploitable vulnerabilities to the NRA's Montana bunker complex via the usual secure channels.
The Rise of the Machines™
Aliens responsible for Italian machine uprising (29 October 2007)
NASA to unleash 'mind meld' intelligent machines (22 June 2007)
EU slaps 'Davros tax' on mobility scooters (12 June 2007)
Carnivore ATM bites Florida kiddie (16 March 2007)
Hybrid vehicle attacks petrol station (12 March 2007)
Humans taste of bacon, says gourmet robot (10 November 2006)
Satnav orders German into toilet (24 October 2006)
Lizard Alliance targets Turkish PM (19 October 2006)
Washing machine attacks Icelander (9 October 2006)
Volkswagen unleashes 150mph self-driving car (4 July 2006)
Police arrest satanic BMW victim (20 June 2006)
Iraq grunts mourn loss of robot comrade (25 May 2006)
Bendy bus attacks Leeds cake shop (25 April 2006)
Captain Cyborg acquires Dalek capability (20 April 2006)
Man survives satanic BMW crash-and-burn (13 March 2006)
Second Freeview box signals alien invasion fleet (15 February 2006)
Lizard Army fuses woman with black helicopter (4 November 2005)
NRA probes Japanese sex android (26 August 2005)
Androids launch minicab firm (15 July 2005)
Beware the breast-examining hand of death (13 July 2005)
Lizard Army Neo-Mech menaces eBay (13 July 2005)
Vampire robonurses hunt in packs (6 June 2005)
Cornell Uni develops apocalypse cube (13 May 2005)
Sex android begats Armageddon machine (22 April 2005)
Man executes Chrysler (21 April 2005)
Rise of the man-eating cyberloo (24 March 2005)
Sobbing Frenchman recounts Renault Laguna terror ordeal (18 March 2005)
Fire-breathing bus attacks South London (14 March 2005)
Dyson unleashes self-replicating hoover (11 March 2005)
Battling teen crushes roboarm menace (8 March 2005)
French join motorised Lizard Alliance (22 February 2005)
Lizard Army develops copulating robot (11 February 2005)
We are Zogg: The Cuddly Menace (9 February 2005)
Lizard Army invades Alaska (27 January 2005)
London menaced by flaming DVD players (12 January 2005)
Killer hoover attacks Scotsman (24 December 2004)
Car self-destructs in assassination bid (17 December 2004)
The rise of the rat-brain controlled android (16 December 2004)
Boffins unleash robotic cockroach (15 November 2004)
Ukrainian teen fights the Rise of the Machines™ (13 October 2004)
Man in satanic Renault terror ordeal (7 October 2004)
Killer cyberappliances: Satan implicated (28 June 2004)
US develops motorised robobollard (29 April 2004)
Killer cyberloo kidnaps kiddie (22 April 2004)
Fire-breathing buses threaten London (24 March 2004)
Cyberappliances attack Italian village (11 February 2004)
Cyberloo blast rocks Stoke-on-Trent (10 February 2004)
Cyberkiosk assaults Spanish teenager (8 December 2003)
Hi-tech toilet caught on camera (19 April 2001)
Hi-tech toilet swallows woman (17 April 2001)