Ton-up electric Reliant Robin offered for '09
Del Boy would be selling it, not driving it
Californian electrocar firm ZAP has brought down a veritable ink storm in the British press lately regarding its planned new 156mph Alias electric sports "car". The Blighty-side hackswarm could be accounted for by the facts that the car is a) a three-wheeler, allowing (nay, necessitating) Trotters Independent Traders references, and b) has involvement from Lotus.
The news in this case is that ZAP reckon they can get the car from drawing board to road by 2009, which has given rise to incredulity from serious motor-tech analysts.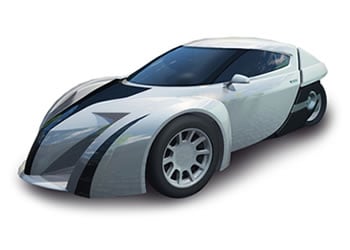 Only fools would prefer it to horses.
It seems implausible that a small firm like ZAP can get the batteries, motors and so on it will need for Alias when established motor titans are shouldering into the electric propulsion market armed with long-term deals, established customer bases and big bucks. Furthermore, the difficulties of integrating the bits once sourced to form a working car are currently being demonstrated by the Tesla Roadster, a project with many similarities to the proposed Alias - even down to Lotus involvement.
But ZAP reckon they have a trick up their sleeve. The Alias is to be "homologated"* - certified roadworthy - as if it were a motorcycle. (This is the main reason for using three wheels.) Motorbikes don't require expensive, long drawn-out crash tests and so forth, making an ambitious timetable easier to achieve.
The downside, of course, is that motorcycles are hugely more dangerous than cars, which isn't exactly a selling point. Were the Alias to be marketed in Britain, there would be an excellent chance of Top Gear's Jeremy Clarkson mounting a campaign against it, as he lately did against the much slower "G-Wiz". Indeed, the G-Wiz kerfuffle may lead to a prohibition on certifying such vehicles under motorcycle rules in Europe, if the UK transport authorities get their way.
Then the Alias will face the same sort of issues that every battery car does - it will take hours sitting still to charge up after travelling "100+" miles, so you'll need something else for that trip to see the relatives. The batteries may very well need replacing quite soon, at a sizeable percentage of the original car's cost. The Alias' wheel-mounted electric motors are to be "water cooled", too, an idea you'd rather not see developed in a hurry.
And after all that, there remains a further underlying issue common to all electric vehicles. ZAP actually stands for "Zero Air Pollution", but at the moment in the States electric cars are in effect very dirty and inefficient coal-powered ones. Only in nations like France or Switzerland, where electricity is largely hydro- and nuclear-generated, does a ZAP car do what it says on the tin.
Google seem to think they can invent renewables which can power a mainly electric wheeled world using a fraction of a percentage point of their ad revenue. Nobody else - not even Greenpeace - believes in this concept. (Greenpeace prefer a more hair-shirty plan in which most people don't have cars and 'leccy costs a damn sight more than it does now.)
So the ZAP Alias is for uncritical Google zealots and/or proponents of nuclear power; ones who also like cars which take hours to top up and which even Jeremy Clarkson and his crash-happy team see as unacceptably dangerous.
This design may not merely be difficult to build on time - it may also be difficult to sell.®
*Feel sick now