The only thing worse than the "Wisdom of Crowds" may be the "Graffiti of Crowds."
Hoping to prove its hipness, Dell has been sponsoring a "ReGeneration" contest on Facebook. Visitors to Facebook were asked to use the Graffiti application as a means of expressing "what green means to you."
The Facebook clan produced thousands of images. Then more than 1m users of the service voted on their favorite pictures, narrowing the field to 150 images. Ultimately, a panel of judges selected the top overall, most creative, best landscape, best use of animal life, best use of plant life and most inspiring end results.
Beauty. Eye. Beholder. We understand.
But how can you explain this winning for "best use of animal life"?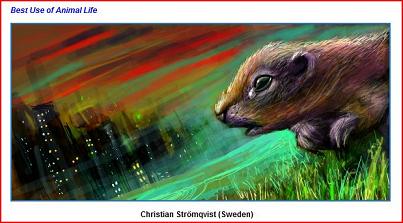 When Hamsters Cry
Even someone without a cynical bone in their body will admit that this steaming load of cheeseosity makes being part of the "green movement" seem like the worst idea imaginable.
These dying ducks are obviously better than the rodent.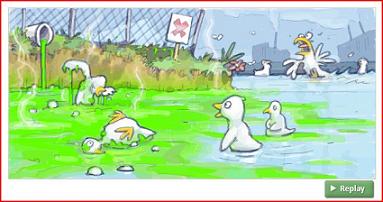 Ducky Dell
Some of the winners were indeed impressive, especially when you consider that the creators only had Graffiti as a tool. For their efforts, the champions will receive a 22 inch Ultrasharp Widescreen Flat Panel Monitor - the perfect gift for any crying gerbil in search of clean granola.
You, however, have to suspect that the winner of the best overall picture prize will receive a little something extra from Dell. After all, the artist managed to plant a Dell ad in the background of this rather meaningless work. Independent judges? Yeah, right.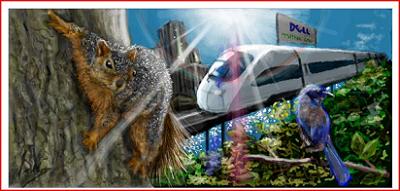 Racing train meets clingy squirrel. Dell smiles
We salute all of the contestants who refrained from plugging Dell or making animals shed tears in order to express their anguish over the state of the environment. Have a look at all the work here. ®
Similar topics