Palm is to bring its Palm OS-based Centro smartphone to Europe, the company announced today.
The Centro has a design that largely matches that of the Windows Mobile 6-based Treo 500. It too has a Qwerty microkeyboard, but the Centro is thinner and taller than the more squat Treo.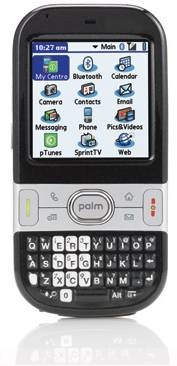 Palm's Centro: coming to the UK
The Palm OS 5.4.9 device has quad-band GSM/GPRS/Edge connectivity, but no 3G. It's got just 64MB of user-accessible memory to the 500's 115MB, but it can take Micro SDHC cards of up to 4GB in capacity.
Both devices have a 240 x 320, 65,536-colour display and Bluetooth - though it's version 1.2 here but 2.0 in the Treo. The Centro has a 1.3-megapixel camera, but the Treo's runs to two megapixels.
The specification differences are reflected in the price differential. The Centro will retail for £199 when it goes on sale at the end of the month, while Palm charges £269 for the Treo 500. Or you can pay £299 for the Treo 500v and tie yourself to Vodafone into the bargain...
Related Reviews
• Palm Treo 500v
• Palm Treo 680
• Palm Treo 750v


Similar topics