Storage unstartup Pillar Data Systems is hawking a new application-aware storage feature for its Axiom arrays as "the world's first and only true" form of the management service.
While it's par for the course for a vendor to claim global eminence and dominance in anything within throwing distance of their boxes, this particular story seems a stretch. Various forms of application-aware storage management have been used in hardware such as EMC's Centera, Hitachi's Archivas, and Sun's StorageTek systems for some time. It's also ground staked by software vendors such as Symantec, Aptare and Bycast and others.
Of course, you can claim all kinds of first by adding the nifty word "true" into the mix. Larry Ellison's $150m data storage company apparently likes this trick.
But application-awareness is pretty nifty technology, so we'll just move on with things.
The new Axiom feature lets the storage administrator assign specific performance settings such as capacity, I/O rate, CPU priority, cache configuration and such on an application-by-application basis.
Sort of like this, assuming you also have super magnification vision: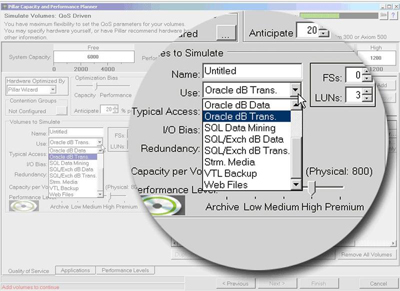 Image courtesy the Pillar blog
Admins can make profiles and tune both in-house and third party applications. They can also make temporary changes to performance criteria on-the-fly for short term bumps such as discovery or data mining.
Ready for some stats of questionable origin? Pillar says the benefits of using application-aware storage services include a 50 per cent reduction in administrative expenses and total cost of ownership, as well as disk utilization of up to 80 per cent.
Additional tidbits can be found on Pillar's page over yonder. ®
Bootnote
According to the Pillar website:
1)The company has clams for a mascot.
2) Pillar CEO Mike Workman buildscustom fireworks in a desert facility outside Oatman, Arizona.