NSFW Fans of 1973 cult classic The Wicker Man will be delighted to learn that Britt Ekland and Christopher Lee are on board for a sequel to the virgin-roasting paganfest.
The film, promisingly entitled Cowboys For Christ, will be helmed by original director Robin Hardy, and is based on his 2006 novel of the same name, according to the Times.
While it's described as "not a conventional sequel", the movie's plot revolves around a gospel singer and her cowboy friend who "set off from Texas to enlighten Scottish heathens about the ways of Christ". Rather ominously, they're both virgins and after a warm welcome on the estate of "genial laird" Lee and his wife Lady Delia Morrison, to be played by Joan Collins, they discover their intentions are "less than honourable".
Hardy told Scotland's Sunday Herald: "They thought they'd broken the mould after we made the original Wicker Man, but they were wrong." He described the project as "another film with beautiful songs, sassy sex, a few good laughs and horror upon horrors ahead".
Lee enthused: "The reason I want to work again with Robin is because he has written a book that is erotic, romantic, comic and horrific enough to loosen the bowels of a bronze statue."
Shooting on Cowboys For Christ kicks off on 10 April in some of the Dumfries locations used for the original Wicker Man. The movie will feature a suitably Celtic soundtrack, penned by Keith Easdale, although we'll have to wait and see if 65-year-old Ekland will be shaking her booty to the beat in the style of barmaid Willow in the original flick.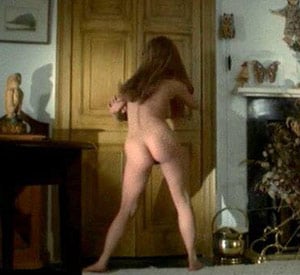 And on the subject of Willow's backside (see pic), Ekland last week confirmed what movie buffs have suspected all along: that said buns were not those of the talented Swedish thesp but rather a body double. She told Jonathan Ross: "I didn't want to show my bottom but I shot myself in the foot. They put in the ugliest, biggest bottom in the world. Mine was much smaller and much nicer. I recently found out it was a stripper from Glasgow."
Robin Hardy assured the Sunday Herald that he "did indeed go to Glasgow to find a stripper that vaguely resembled Ekland", explaining: "We had to find someone rather quickly. The girl we found in a club was promised back the next day to the place she was performing. To my distress I discovered she was still with the crew, having a good time, two weeks later."®