This article is more than 1 year old
Holocube introduces '3D' display gizmo
Smoke and mirrors?
While some people think 3D displays are the Holy Grail of TV technology, European manufacturer Holocube has created a stylish box capable of displaying single objects in 3D.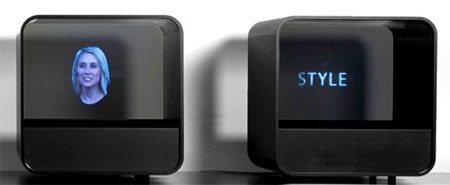 Holocube's 3D Holocube: sleek and sexy?
But it might not be quite what you think. The manufacturer told Register Hardware that the source images used to create a 3D picture in the 50 x 50 x 50cm cube are three-dimensional, but they're projected upward from a 2D screen onto a sheet of glass angled at 45° to both viewer and screen. The viewer's brain is essentially fooled into believing it's seeing a true 3D image.
The technique sounds similar to an established illusion, dubbed Pepper's Ghost, which uses a glass plate and varied lighting angles to create the image of a phantom appearing and then disappearing within a room.
Whilst the Holocube may be capable of providing the illusion of a single 3D image projected against a single colour background, such as those shown above, it probably couldn't cope with a busier scene, such as people walking through the park, where multiple items need to be shown in 3D. That's certainly why the cube's only being pitched at businesses looking for new ways to advertise, say, a mobile phone, in stores and other venues.
Can't see the video? Download Flash Player from Adobe.com
However, the cube does include a 40GB hard drive, able to store about 18 hours of compressed video at a 4Mb/s bitrate, or eight hours of 9Mb/s material. The display's brightness rating is 1100cd/m², and a USB port is built-in for uploading fresh content.
Holocube brags that its display is "immune to viruses" and can reboot itself automatically, should the power supply go down. All of its operations are said to be pre-programmed and able to function automatically and independently.
The 3D Holocube is available now for €6000 (£4500/$9000).