Baylis Eco EP-MX71 hand-cranked media player
It's green and groovy - and that's no wind-up
Review Trevor Baylis, he of wind-up radio fame, now has a range of hand-cranked products, including this, the world's first wind-up multimedia player. It comes down to whether you're concerned by green issues - and you should be, unless you plan to move to another planet any time soon.
First seen in August last year, the Baylis Eco Media Player looks to combine the very latest technology with good old-fashioned elbow grease in an eco-friendly package. No one is going to argue that this player is the sleekest most sophisticated model on the market. However, if cutting down your carbon footprint is important to you, not to mention the environmental impact of a product once it has reached the end of its life, this product is a real boon.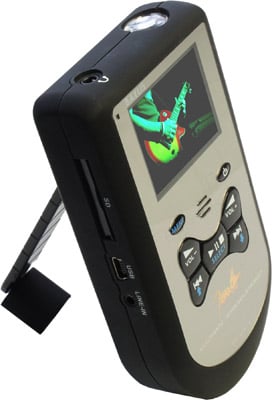 Eco EP-MX71: start a trend... and get green
It actually delivers far more on the functionality side than you might expect. Because of its internal winding mechanism, the unit is a little bulky when compared to most MP3 players. However, it isn't so big as to be cumbersome, and the rubber coating gives it a nice feel in the palm. Currently, the product comes in 2GB version, although the company hopes to introduce 4GB and 8GB versions in due course.
Not the largest capacity out there of course, but there is an SD card slot so this boosts available memory capacity considerably. Once the unit has been fully charged - the manufacturer recommends an 8-10 hour charge by USB initially - the unit can be completely independent via its crank handle. One minute of winding gives around 20 minutes of music playback and ten minutes of video.