Baylis Eco EP-MX71 hand-cranked media player
It's green and groovy - and that's no wind-up
Of course, this depends on the volume of what you are playing, but we found the figures to be about right. Apart from the green side of things, the independent power supply was a real bonus for the more forgetful among the Register Hardware team, who often forget to keep their players topped up. There 's surely nothing more annoying that being on a long flight or train journey stuck next to someone who just won't shut-up and finding the solace of retreating into some music denied by a flat battery.
File loading is really straightforward. The machine just appears as an external hard drive on the desktop and files are dragged and dropped in. The machine is compatible with MP3, WMA, WAV and Ogg formats. In playback, the machine performs really well, thanks to its 24-bit digital audio processor. The sound is warmer and more natural than many other players, and a really nice function is that when play is stopped or resumed the sound fades back in gently rather than rushing back all at once.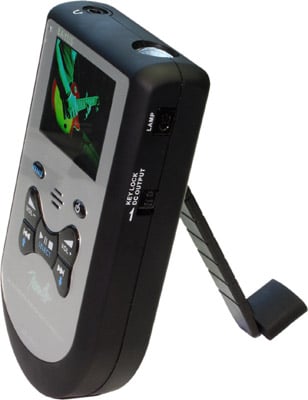 The rubber coating gives it a nice rooted feel in the palm
There are several EQ settings available to adjust the sound, but we found these didn't make enough of a difference to really worry about. Just leave the player on the Rock setting and enjoy its considerable playback quality. The menu system is uncomplicated and has a slightly clunky look, but switch it to Expert mode and things improve considerably, thanks to an attractive and information packed display. There's also an FM radio on board which can search for stations automatically and store them as presets.
The unit uses its own headphones as an aerial and the performance here is one on the best we've witnessed for a while. Stations are easy to find and the sound quality is very high. The headphones themselves deliver better-than-average sound quality and are certainly more comfortable than many supplied headphones.