Baylis Eco EP-MX71 hand-cranked media player
It's green and groovy - and that's no wind-up
However, things get a little more complicated when you move up to video. Any files that are to be loaded onto the player must first be converted to the AMV format using the software supplied with the machine.
Although it's a bit of a pain, conversion is pretty straightforward. The software supports conversion from AVI, WMV, MPEG 1 and 2, Real Player, Quick Time and Flash sources. The converter will run on PC running Windows 98 or better, with DirectX 9.0 or above installed too.
Playback quality on the 1.8in LCD screen isn't the sharpest we've seen, but is fine for most content. You can display JPEG, GIF and BMP pictures too, but it's a good idea to scale them down first, to speed transfer and to ensure you don't fill your 2GB of storage all at once.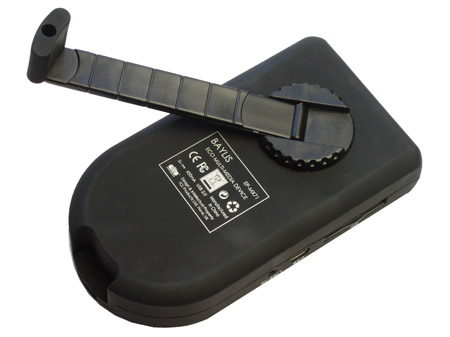 It can even be used as a phone charger
This player would be worth consideration if these features were all it could offer. However, the Baylis has another trick up its sleeve that's a real surprise. If we go back into the mists of time, before hoodies, Labour governments starting wars and extremely baggie trousers, people used to listen to music on things called 'records' or even the more space age 'stereo cassette'.
A quick straw poll around the Register Hardware office discovered that quite a few people still have these ancient forms of communication in their possession. That's good news for the Eco player because it can record analogue sources and convert them to MP3. The theory is simple enough. Connect the 'line out' connection from a cassette player or turntable to the 'line in' on the player, and use the on-screen menu to begin and cease recording.