This article is more than 1 year old
Wireless signal shirt detected in UK
Remember the Wi-Fi detector T-shirt that turned up the States back in October 2007? Well, signal-strength specifying garment has arrived in the UK sporting an alternative antenna design.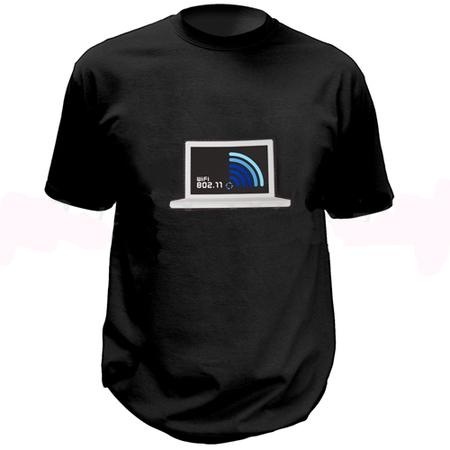 The Wi-Fi T-shirt
In place of the base-station icon of old, the new version sports a stylised laptop - white MacBook, do you reckon? - with a signal strength logo that has colour-changing bars to indicate how close you are to the nearest 2.4GHz hotspot.

Tucked away in the shirt's cotton lining is what UK-exclusive supplier Firebox.com calls "a small battery pack" that's ready to take a pair of AAA powercells. No, they're not included.
All this means you have to take good care of the thing when you're washing it. You geeky types do wash your t-shirts, don't you? Unplug the battery pack and give the garment a hand-washing, the supplier recommends. Don't iron, dry clean, wring out or tumble dry.
Firebox has the shirt down as coming in to stock on 19 February, but it'll happily take pre-orders now. The t-shirt costs £19.95, and is available in Medium, Large and Extra Large sizes.