Review Novatel Wireless pitches the Ovation MC950D as the world's smallest USB modem capable not only of making 7.2Mb/s HSDPA connections but also that 3G speed-boost technology's upload equivalent, HSUPA.
The unit itself is a shiny black USB dongle a little larger than a USB Flash drive. Remove the obligatory end-cap and you not only expose the USB connector but you also reveal the SIM slot. You can slip the Ovation straight into a free USB port if there's room - Novatel Wireless includes a USB extension cable in case there isn't. It also bundles a wee holder to allow you to clip the modem to the top of your laptop's screen.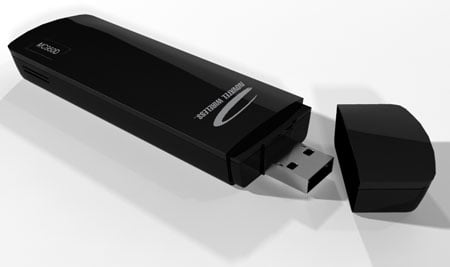 Novatel Wireless' Ovation MC950D: easy HSDPA connectivity
The presence of the screen clip suggests you may need to move the Ovation around to get the best reception. And, we'd add, to help with cooling - the Ovation gets darned hot. Incidentally, the USB cable is double-headed, to draw all the power the Ovation needs when it's connected to a USB 1.1-only machine.
The MC950D can connect on three HDSPA bands: 850MHz, 1900MHz and 2100MHz. If it needs to drop back to Edge or GPRS, it supports the quad-band frequencies of 850MHz, 900MHz, 1800MHz and 1900MHz. So it's got all your cellular connectivity options taped, unless you really feel the need to dial up over a GSM voice connection.
We tried the Ovation out first on a MacBook Pro running Mac OS X 10.4.11 and then on a Windows XP SP2 machine - an Eee PC, to be precise. Novatel Wireless supplies drivers for the Mac on an accompanying CD, but the PC-oriented software auto-runs off the modem itself. So far the Mac drivers only go up to Tiger, though they apparently will run under Leopard, albeit with some issues (PDF).
Similar topics